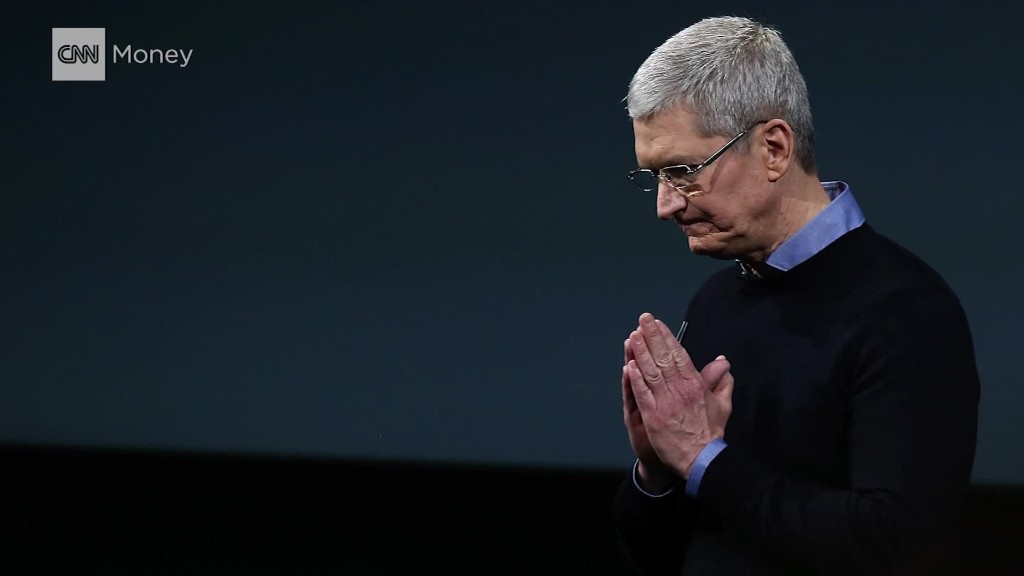 Can markets end the summer on a high note?
U.S. stock futures are little changed on the last day of August and global markets are mixed.
Here are the five things you need to know before the opening bell rings in New York:
1. Apple fallout: Shares in Apple are flat premarket, after closing down 0.8% on Tuesday. The company was hit by a $14.6 billion tax bill by the European Union.
The ruling by the European Commission has already sparked a transatlantic war of words, with the White House calling it "a transfer of revenue from U.S. taxpayers to the EU."
The Irish government, which was ordered by the EU to recover the unpaid tax from Apple, meets to decide its next steps at 6.30 a.m. ET on Wednesday.
Related: How Apple paid just 0.005% tax on its global profits
2. Spotlight on Brazil, India and Nigeria: Three big developing economies are reporting GDP on Wednesday.
Nigeria slumped into recession in the second quarter as GDP fell by more than 2% compared to last year because of sharp drop in oil production.
Brazil is due to release second quarter GDP figures on Wednesday. The country is still gripped by its worst political and economic turmoil in decades. Suspended president Dilma Rousseff is standing in an impeachment trial, and the economy is expected to contract 2.3% this year.
India will also release GDP figures later Wednesday for the quarter ended June, offering a very different picture. The data are likely to show that India is still the world's fastest growing major economy, despite concerns over the pace of reforms.
3. Stock market movers -- H&R Block: H&R Block (HRB) shares shed 6% during extended trading after the company issued a quarterly earnings update on Tuesday afternoon.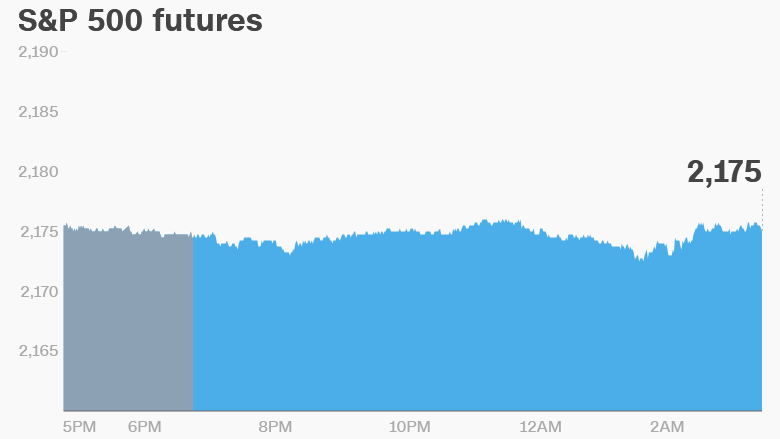 4. Earnings and economics: Private space exploration company Orbital ATK (OA) will post earnings ahead of the open. After the close, reports are due from Salesforce.com (CRM), Shoe Carnival (SCVL), and Five Below (FIVE).
An update on U.S. crude oil inventories is due at 10:30 am ET.
U.S. payroll processor ADP will release employment statistics at 8:15 am ET. The data will give a good indication on what to expect from the hotly anticipated jobs report on Friday.
Related: These powerful gold buyers are losing their appetite
Eurozone annual inflation was 0.2% in August, a weaker reading than analysts were expecting. Unemployment across the bloc was 10.1% in July, unchanged from June.
Analysts are paying close attention to the data ahead of the European Central Bank policy meeting next week. "The eurozone has faced a spate of poor data recently and there will be pressure on the ECB to take [more] measures to support the economy," said Ana Thaker, market economist at PhillipCapital.
5. Markets overview: European markets are mostly flat in early trading. London's FTSE 100 and Germany's DAX opened slightly lower. Asian markets ended the session mixed.
Japan's Nikkei was up 1% on a weaker yen and thanks to comments by a Bank of Japan policymaker, who hinted at the possibility of more monetary easing. Japanese industrial production was flat in July, below market expectations, and inflation is still well below the bank's target of 2%.
Oil is falling around 0.5% on Wednesday morning.
The Dow Jones industrial average sunk 0.3% on Tuesday, while the S&P 500 and the Nasdaq dropped 0.2% each.