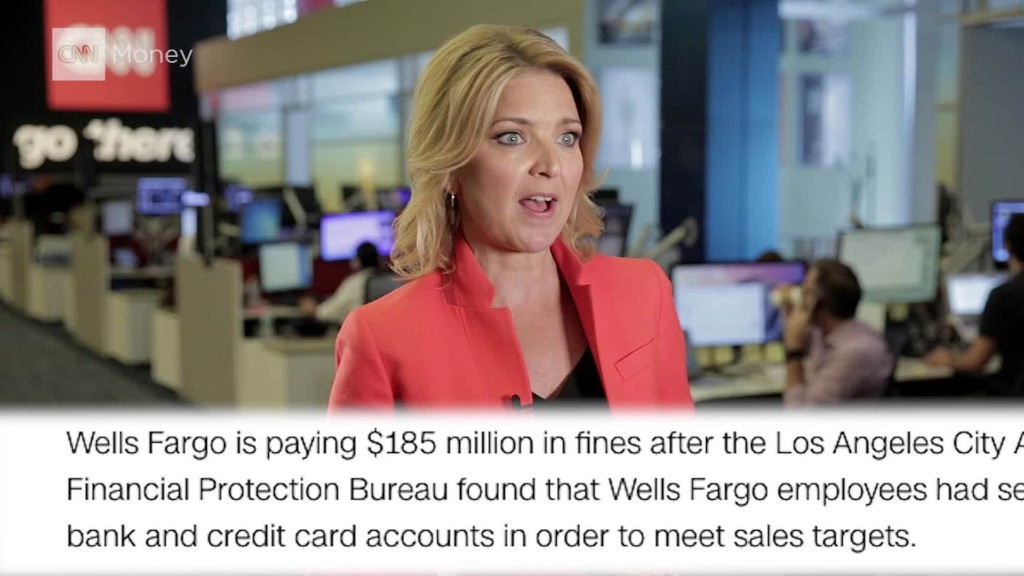 There's plenty going on today. Let's get straight to it.
Here are the five things you need to know before the opening bell rings in New York:
1. Wells Fargo gets grilled: Get ready for tense exchanges Tuesday when Wells Fargo (WFC) CEO John Stumpf is grilled by members of the Senate Banking Committee. He will be asked how Wells Fargo was able to create more than 2 million fake accounts and why top executives didn't catch the fraud even though they fired 5,300 employees over several years.
2. Flurry of quarterly reports: A trio of noteworthy companies are set to reveal quarterly numbers on Tuesday.
Lennar (LEN) kicks things off ahead of the open. Adobe Systems (ADBE) and FedEx (FDX) will release results after the close.
3. Ones to watch -- SeaWorld, Takata, Walmart: SeaWorld (SEAS) stock could hit a new record low Tuesday after the company said it would scrap its dividend. Shares in the theme park company have plunged by nearly 36% so far this year. They're falling about 6% premarket.
Shares in Japanese auto parts maker Takata dropped 11.6% Tuesday after it was reported that the firm may go through bankruptcy proceedings.
Potential bidders for Takata (TKTDY) were considering bankruptcy options as a way to "mitigate liabilities" in relation to the company's massive airbag recall, Bloomberg reported.
Takata stock has lost about 90% of its value since 2014.
Walmart (WMT) is in the spotlight after completing its purchase of Jet.com last night. The takeover cost $3.3 billion.
The deal may help Walmart reinvigorate growth in its online shopping business and challenge Amazon (AMZN).
4. Economics: Important housing data is coming from the U.S. Census Bureau at 8:30 a.m. ET. The department is reporting national building permits and housing starts for August.
5. Global market overview: Global stock markets are pretty quiet right now.
"Financial markets seem to have pressed the snooze bottom on Tuesday and are not willing to wake up until Wednesday when the Bank of Japan and the Federal Reserve release their latest monetary policy decisions," noted Hussein Sayed, chief market strategist at FXTM.
U.S. stock futures are holding steady ahead of the open. European markets are mixed in early trading, while Asian markets are closing out the day with muted results.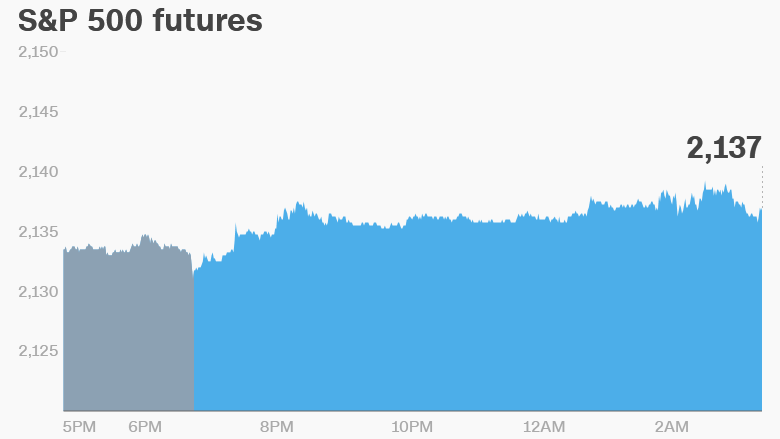 This follows a relatively quiet Monday when the Dow Jones industrial average and S&P 500 ended the trading day unchanged. The Nasdaq dipped by 0.2%.