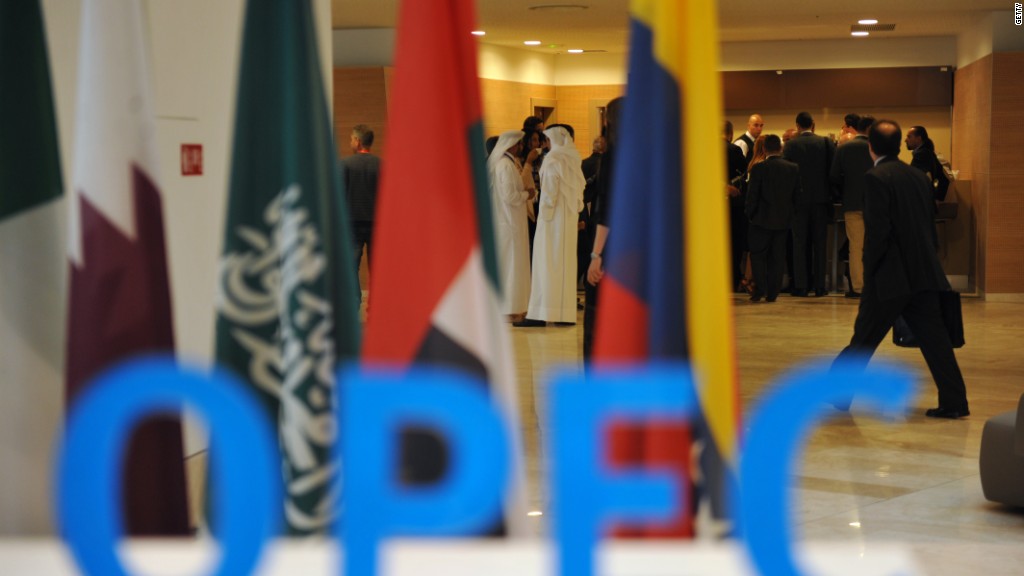 1. Surprise oil agreement: Crude prices jumped more than 5% overnight to just over $47 per barrel after OPEC countries finally struck a preliminary agreement to cut oil production.
The deal was almost a year in the making as the world's biggest oil producers fought over their market share.
Under the agreement, OPEC oil production is expected to be reduced to a range of 32.5 to 33 million barrels of oil per day from 33.4 million. But oil prices eased back early Thursday -- markets are wary of OPEC's ability to deliver.
Related: OPEC agrees to cut production; oil prices surge
2. Markets up: U.S. stock futures are edging higher.
European markets are up in early trading, getting a boost from the oil agreement. The FTSE 100 opened just over 1% higher on Thursday, with Germany's DAX up 1.2%. Asian markets also ended higher; the Nikkei added 1.4%.
But markets in India are dropping around 1% after the Indian army said it had conducted "surgical attacks" along the disputed border with Pakistan.
3. Stock market movers -- Shell, BP, Exxon Mobil: Energy companies and miners are getting a lift from the OPEC agreement. Royal Dutch Shell (RDSA) is up 5.5% in London, with BP (BP) and BHP Billiton (BBL) both up over 4.5%.
Exxon Mobil (XOM) and Chesapeake (CHK) are up almost 1% in premarket trading.
Dutch food delivery company Takeaway.com is expected to announce its IPO price on Thursday. The company could become Europe's next unicorn, a company valued at more than $1 billion.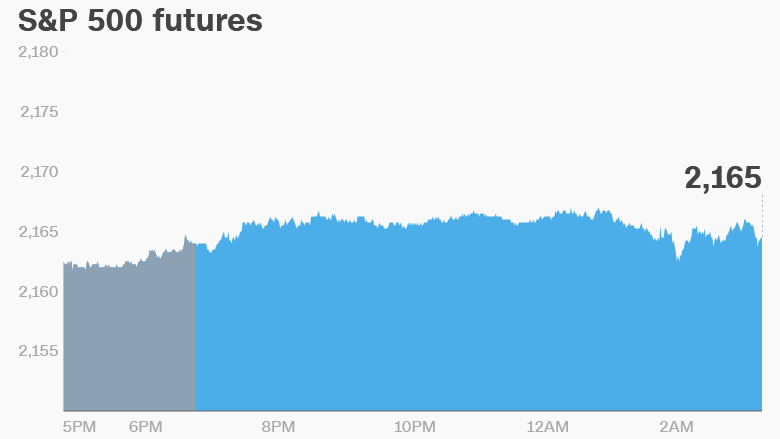 4. Earnings and economics: Pepsi (PEP) and Accenture will report earnings ahead of the open.
After the close, Costco (COST) will report.
The final reading of U.S. second quarter GDP is expected at 8:30 am ET. The weekly update to natural gas inventories data will follow at 10:30 am ET.
Janet Yellen will speak at a banking conference at 4 p.m. ET and investors will be watching for any hints on future rate hikes.
At the same time, Wells Fargo (WFC)'s Chairman and CEO John Stumpf will testify at the House Financial Services Committee.
5. Wednesday market recap: The Dow Jones industrial average was up 0.6%, while the S&P 500 added 0.5% and the Nasdaq gained 0.2%.
6. Coming this week:
Friday - U.S. consumer spending