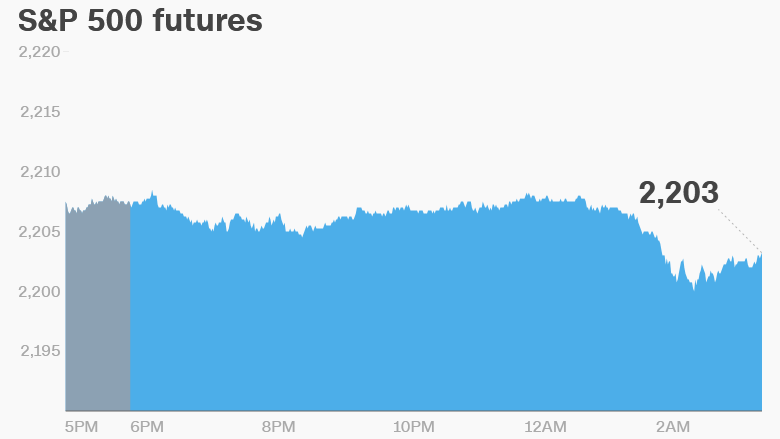 1. Stocks slide: Investors are coming back from the long weekend and they're ready to sell.
U.S. stock futures are pointing down and European markets are all declining in early trading, with some off by more than 1%.
Oil is also moving to center stage: OPEC countries are racing to negotiate key details of a planned production cut ahead of their meeting on Wednesday.
Crude oil futures have been volatile in recent days. The price per barrel fell to $46 on Monday after topping $49 just last week.
Negativity in the markets comes after U.S. stocks surged to all-time highs on Friday during a shortened trading day.
The main U.S. indexes -- the Dow Jones industrial average, S&P 500 and Nasdaq -- each closed at new record highs. The indexes have risen up by between 22% to 28% from lows set in January and February.
2. And now, Cyber Monday: Investors are waiting to see if American customers will keep spending on Cyber Monday, following the Black Friday retail extravaganza.
Data from the National Retail Federation show more bargain hunters opened their wallets for the Black Friday weekend this year, but on average they spent a little less than in 2015.
Online sales on Thursday and Friday surpassed $5 billion with more than $1.2 billion coming from mobile devices, according to Adobe.
Before the Bell newsletter: Key market news. In your inbox. Subscribe now!
3. Stocks to watch -- Lockheed Martin, Lufthansa: Shares in the aerospace and defense firm Lockheed Martin (LMT) could be on the move Monday after Israel's Security Cabinet announced on Sunday that it would buy 17 additional Lockheed Martin F-35 fighter jets. This would bring the country's total purchase to 50 F-35s.
The additional jets will cost the Israeli government an estimated $1.5 billion.
Meanwhile, shares in German airline Lufthansa (DLAKY) are dropping by 3% in Europe after the pilots' union said they would continue striking on Tuesday and Wednesday.
Talks aimed at resolving a costly strike failed on Sunday.
Strikes last week forced the cancellation of 2,755 flights, affecting more than 345,000 passengers.
Download CNN MoneyStream for up-to-the-minute market data and news
4. Coming this week:
Monday - Cyber Monday
Tuesday - Report on GDP in the U.S.; Chicago O'Hare airport workers set to strike
Wednesday - OPEC meeting, U.K. economic forecast
Thursday - Auto sales
Friday - U.S. jobs report