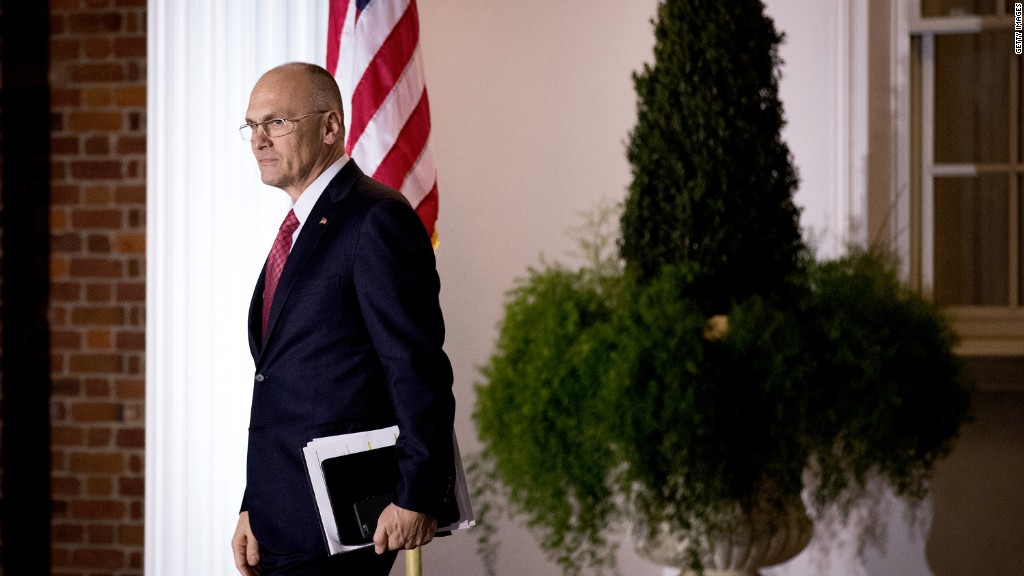 Andrew Puzder wants to be the next labor secretary. But more and more of his employees are making the case against him.
Current and former workers at Hardee's and Carl's Jr. announced Thursday that they have filed 33 state and federal complaints against their employers in the past week. The charges include wage theft, manipulated overtime, sexual harassment and unfair labor practices.
Puzder is the CEO of CKE Restaurants, which operates Hardee's and Carl's Jr. fast food chains. All of the complaints pertain to locations that are franchised, which means they are independently operated.
Even so, the workers say the slew of complaints reflects poorly on man who hopes to lead the U.S. Department of Labor.
"The restaurant I worked at went an entire month without paying me a dime, and they only agreed to pay me after I stopped coming to work in protest," Angel Gallegos, a Carl's Jr. cook in Los Angeles, said in a statement. "If Andy Puzder can't be trusted to pay his workers what they've earned, why should we expect him to enforce laws meant to protect working Americans?"
Related: Trump labor pick in 2011 on his fast-food workers: We hire 'the best of the worst'
A spokesperson for CKE Restaurants said the company does not comment on pending litigation, but noted nearly 95% of its restaurants are franchised.
"Each of these 2,769 franchise stores are run independently and solely responsible for their employees, management and adherence to regulations and labor practices," the spokesperson said.
Puzder is scheduled to appear before a Senate committee on Feb. 7. The date of his hearing was pushed back on Wednesday from Feb. 2.
Protests against the fast food exec's nomination also took place Thursday in 31 cities outside of CKE restaurants and local Department of Labor branches, according to organizers.
Puzder's nomination has been challenged by labor rights activists from the start.
Puzder has a long record of opposing government regulation, coming out against a $15 minimum wage, required overtime pay and the Affordable Care Act.
Related: Trump labor pick: 2012 election showed a lot of people 'want free stuff'
Fight for $15, the organization that's successfully advocated for minimum wage hikes in several cities and states, helped coordinate Thursday's protests. The group also helped organize picketing against Puzder across more than 20 cities earlier in January when his nomination was announced.
A CNNMoney review of complaints shows filings were lodged at the state and federal level, both to the Labor Department and the U.S. Equal Employment Opportunity Commission, an independent federal agency.
Ceatana Cardona, a Hardee's worker from Tampa, Florida, alleges that management didn't do anything after she complained that her shift manager made sexual advances. Instead, Cardona said she was switched from the night shift to the day shift after she made the complaint, which meant she got fewer hours and made less money.
Hardee's workers at an Illinois restaurant claimed they were not paid any overtime or had their hours adjusted so the manager wouldn't need to pay them any overtime.
And some employees at a Carl's Jr. in Nevada said they were required to work through a 30-minute break each shift, but weren't paid for the time.
Related: Carl's Jr. and Hardee's workers: Don't make our boss Trump's labor secretary
"The magnitude of these violations and the pervasiveness of them suggests that the culture at the company is not one of complying with basic laws," said Cathy Ruckelshaus, general counsel for the nonprofit National Employment Law Project, a workers' rights group.
Puzder has also gotten heat for describing his restaurants' employees as the "best of the worst" available in the employment pool.
Senators may also push the fast food exec on past op-eds he's written calling for the Labor Department to ditch the official unemployment rate because it's "misleading."