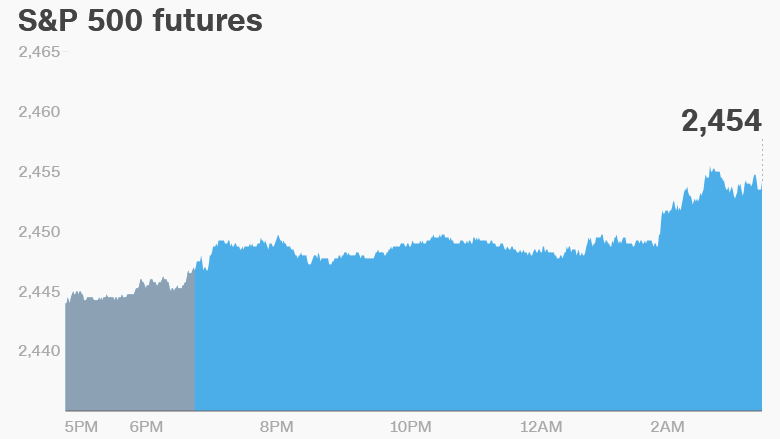 1. Trade with China: President Trump is expected to order a broad probe of alleged Chinese unfair trade practices on Monday.
Senior administration officials said Trump would direct U.S. Trade Representative Robert Lighthizer to look into forced intellectual property transfers and patent thefts.
The move could lay the groundwork for an official investigation, if Lighthizer recommends one. Should an investigation find wrongdoing, Trump could impose tariffs against Chinese imports, which would mark a significant escalation in his efforts to reshape the trade relationship between the world's two largest economies.
Chinese state media warned that the move could "poison" relations and eventually lead to a "trade war."
2. Japan's economy accelerates: The world's third biggest economy delivered a positive surprise on Monday, growing by an annualized 4% in the second quarter thanks to an upturn in domestic demand.
GDP in the April-June period grew by 1% compared with the previous quarter, marking the sixth straight quarter of growth. The last time the Japanese economy enjoyed such a strong run was in 2005-2006.
3. Market fear eases: In the absence of an escalation over the weekend of the war of words between the U.S. and North Korea, investors appear slightly less anxious on Monday.
U.S. stock futures are moving higher, and European markets gained around 1% in early trading. Asian markets ended mostly in positive territory -- with the exception of Tokyo's Nikkei index which was closed Friday when other global markets were falling.
The Dow Jones industrial average and S&P 500 suffered their worst week since March after the risk of a nuclear conflict with Pyongyang saw Wall Street's fear gauge -- the VIX (VIX) volatility index -- spike by the most in almost two years. Both the Dow and S&P fell sharply on Thursday before inching higher on Friday.
"All is relatively calm, all is relatively quiet on the geopolitical front and long may that last," noted Kit Juckes at Societe Generale. "Markets are, as a result, trying to get back to biz-as-usual."
CNNMoney's own Fear and Greed Index, which tracks seven indicators of investor sentiment, is still firmly in "fear" territory but the needle is edging back towards a more "neutral" rating.
Before the Bell newsletter: Key market news. In your inbox. Subscribe now!
4. Earnings and economics: Sysco (SYY) plans to release earnings before the open Monday, while Famous Dave's (DAVE) reports its results after the close.
The Federal Reserve plans to release its Consumer Credit report for June at 3 p.m. ET.
Download CNN MoneyStream for up-to-the-minute market data and news
5. Coming this week:
Tuesday -- Home Depot (HD) earnings; Census Bureau estimate of July retail sales
Wednesday -- NAFTA talks begin; Target (TGT) earnings; Cisco (CSCO) earnings
Thursday -- Walmart (WMT) earnings; Gap (GPS) earnings
Friday -- Consumer confidence preliminary data for August