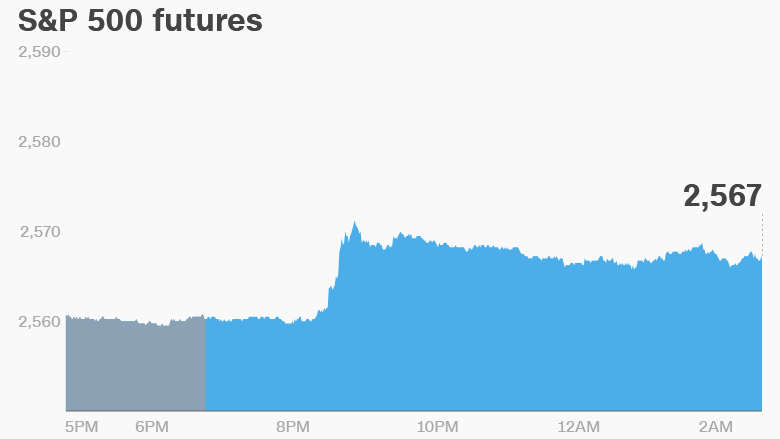 1. GE in the spotlight:
General Electric

(GE) is set to report its latest results before the opening bell.

The company, once a reliable symbol of American success, is in turmoil. Its shares have dropped 25% this year while the wider market has boomed and the economy has strengthened.

Jeff Immelt stepped down as CEO this summer, and a wider management shakeup has so far failed to impress investors.

The new CEO, John Flannery, will likely face questions about his vision for stabilizing the company on Friday. GE's free cash flow, a key metric of financial health, has declined for six straight years.

2. Japan election: Shinzo Abe is hoping to secure another term as prime minister in national elections on Sunday.

Japan's economic growth has revved up over the past few quarters and business confidence is now at its highest level in a decade, but there are still plenty of problems facing the world's third biggest economy.

The country is heavily indebted, wage growth is anemic and Japan Inc. has been hit by a series of scandals.

The latest snafu erupted earlier this month when Kobe Steel admitting to falsifying data. Other stumbles included Takata's deadly airbags, Mitsubishi Motors' fudged fuel-efficiency tests and Toshiba's damaging debacles over its accounting and nuclear power business.

3. May in Brussels: The British pound was under pressure as European Union leaders met in Brussels.

British Prime Minister Theresa May is attempting to use the summit as an opportunity to achieve a breakthrough in stalled Brexit talks.

Investors fear Britain could crash out of the EU without a deal, an event that would have profound implications for the country's economy.

4. Global market overview: U.S. stock futures were pointing up.

European markets opened higher, following the trend set by stocks in Asia.

The Dow Jones industrial average and the S&P 500 posted minor gains on Thursday to close at new record highs.

The Nasdaq dropped 0.3%.

Before the Bell newsletter: Key market news. In your inbox. Subscribe now!

5. Earnings and economics: Honeywell (HON) and Procter & Gamble (PG) will release earnings before the open.

Shares in Volvo (VOLAF) were almost 7% higher after the automaker reported healthy sales and an optimistic outlook.

Swiss Re (SSREF), one of the world's biggest reinsurers, said it expects its losses from hurricanes Harvey, Irma and Maria and earthquakes in Mexico to total $3.6 billion.

The U.S. existing home sales report for September is set to be released at 10 a.m. ET.

The Czech Republic is holding elections on Friday and Saturday. It's the latest country in Europe to see a spike in anti-EU sentiment despite having a relatively strong economy.

Investors will also be monitoring developments in Catalonia, where the separatist regional government remains locked in a political conflict with Madrid.

Download CNN MoneyStream for up-to-the-minute market data and news

6. Coming this week:

Friday -- Earnings from General Electric and Procter & Gamble.