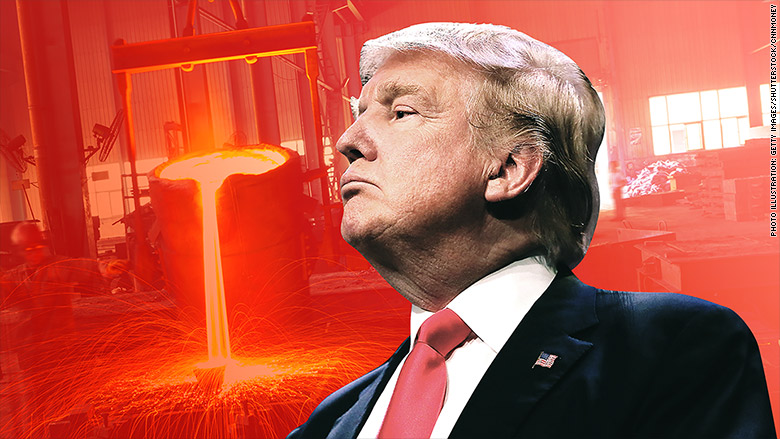 1. Trade fears: Investors are reacting to new trade threats from President Trump.
Trump said over the weekend he would slap a new tax on cars from Europe if the European Union retaliated against his proposed steel and aluminum tariffs.
BMW (BMWYY) shares were down by more than 1% in early trade, and Daimler (DDAIF) dropped about 0.6%. Volkswagen (VLKAF) shares were flat.
Trump announced plans last week to impose a 25% tariff on imported steel and a 10% tariff on aluminum. The EU vowed to hit back with tariffs on American-made motorcycles, bourbon, and denim jeans.
Experts have warned that Trump could be walking into a trade war that would kill American jobs and reduce global trade.
2. European deals -- AXA, Siemens: Shares in AXA (AXAHY) dropped by 7% in Paris after the insurer said it would buy industry rival XL Group (XL) for $15.3 billion in cash.
The deal represents a 33% premium over XL Group's closing price on Friday. XL Group is traded on the New York Stock Exchange.
German industrial conglomerate Siemens (GCTAF) said that an initial public offering of its health care division will be smaller than expected.
The company will sell a 15% stake in Healthineers on the Frankfurt Stock Exchange on March 16. Investors had been expecting more shares to be on offer.
Siemens expects the listing to raise up to €4.7 billion ($5.7 billion).
3. Politics, politics, politics: Italian stocks dropped 1.3% in early trading after anti-establishment parties surged in national elections on Sunday.
No party received enough votes to rule alone, but the populist Five Star Movement made significant gains and could be the biggest single party in parliament.
"It may take months of tortuous negotiations to form a government which apparently will need to be backed by one of the two big radical parties, the [Five Star Movement] or the euro-sceptic Lega [Nord]," wrote economists at Berenberg Bank.
In Germany, Chancellor Angela Merkel has secured a fourth term after months of political wrangling.
The Social Democratic Party voted to renew a coalition with Merkel's Christian Democrats, ending nearly six months of political deadlock that had threatened reforms in Europe.
German stocks were up 1% in early trading.
Before the Bell newsletter: Key market news. In your inbox. Subscribe now!
4. China GDP: China is predicting a slowdown in growth in 2018.
Beijing announced an economic growth target of 6.5% on Monday. That's several notches below the 6.9% rate at which the world's second largest economy expanded last year.
The government's target for this year is in line with economists' forecasts. It was unveiled at the start of the National People's Congress, an annual gathering of Chinese lawmakers.
Growth is expected to cool this year as the Chinese government ramps up efforts to cut risk in its financial system and close down inefficient, polluting factories.
5. Global stock market overview: US stock futures were soft, while European markets were buoyant in early trading.
Most Asian markets ended the day with losses.
The Dow Jones industrial average, S&P 500 and Nasdaq all endured losses last week. The Dow was the biggest loser with a 3.1% drop over the five trading days.
Markets Now newsletter: Get a global markets snapshot in your inbox every afternoon. Sign up now!
6. Coming this week:
Monday — Ascena Retail Group (ASNA) earnings
Tuesday — Target (TGT), H&R Block (HRB), Urban Outfitters (URBN) earnings
Wednesday — Costco (COST), Dollar Tree (DLTR) earnings
Thursday — Kroger (KR) earnings; Trans-Pacific Partnership Agreement set to be signed in Santiago de Chile
Friday — US monthly jobs report