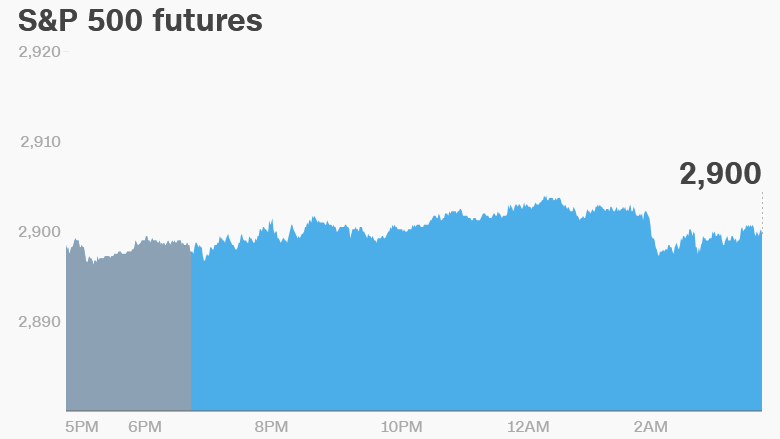 1. Coca-Cola's coffee bet: Coke is splashing out $5 billion to buy a global coffee store chain. It has agreed to purchase Costa Coffee from UK drinks and hotels group Whitbread.
Costa has nearly 4,000 stores across 32 countries. It will give Coca-Cola (KO) "a strong coffee platform across parts of Europe, Asia Pacific, the Middle East and Africa, with the opportunity for additional expansion," Coca-Cola said in a statement.
Shares in Whitbread, which had been planning to spin off its coffee business to focus on hotels, soared 15% in early London trading. Coke shares were little changed in premarket trading.
2. Tencent's tumble: Shares in the world's top gaming company fell nearly 5% on Friday after China announced plans to limit the number of new online games and restrict the amount of time kids spend playing on electronic devices. The government hopes to reduce nearsightedness among young people.
A huge part of Tencent's (TCEHY) business comes from China, where it was already facing regulatory hurdles. Its stock has plunged nearly 30% since January, wiping out more than $160 billion in market value.
Tencent has still not gained approval from Chinese authorities to make money from some of its most popular mobile games such as "PlayerUnknown's Battlegrounds." Regulators also blocked a game called "Monster Hunter: World" for which big sales were expected.
3. Trade winds: Investors are keeping a close eye on various fronts in the global trade war. President Donald Trump told Bloomberg News on Thursday that the United States and Canada were "close to a deal" on trade but he wasn't certain it would happen Friday.
"Canada's going to make a deal at some point. It may be by Friday or it may be within a period of time. I think we're close to a deal," Trump said.
Agreement with Canada should pave the way for a rewrite of NAFTA, after the United States and Mexico announced Monday they had reached a preliminary deal.
But investors are worried that a major escalation in the fight between the United States and China may be just around the corner. Citing multiple sources, Bloomberg reported Thursday that Trump was ready to impose tariffs on $200 billion of Chinese imports as soon as next week.
In Europe, UK officials resume Brexit talks with their EU counterparts on Friday. There are just seven months to go before the United Kingdom is due to leave the bloc, and businesses are still fretting about what comes next.
4. Global market overview: Talk of new tariffs on Chinese goods hurt stocks Thursday. The Dow Jones industrial average was down 0.5%, while the S&P 500 fell 0.4% and the Nasdaq lost 0.3%.
Those trade war jitters hurt sentiment in Asian markets on Friday, with Hong Kong's Hang Seng index closing nearly 1% lower. European markets were also retreating in early trading, while US stock futures were little changed.
Before the Bell newsletter: Key market news. In your inbox. Subscribe now!
5. Argentina's agony: Emerging market turmoil added to the downbeat mood Thursday. Argentina's central bank jacked up its key interest rate by 15 points to 60% and said it would leave the rate at least that high until December as the country seeks a way to stop the collapse of the Argentine peso.
The Turkish lira, which has also plunged this year, steadied slightly on Friday after reports that the government had taken steps to encourage people to keep their savings in the currency.
6. Earnings and economics: India, the world's fastest growing major economy, is due to release GDP figures for the quarter ended June 30 at around 8a ET. Economists expect growth to have ticked down to 7.6% from 7.7% the previous quarter.
China's official purchasing managers' index edged up slightly in August, according to a survey published Friday, suggesting the country's huge manufacturing sector performed slightly better than expected despite the trade war.
Furniture retailer Big Lots (BIG) plans to release earnings before the open Friday.
Markets Now newsletter: Get a global markets snapshot in your inbox every afternoon. Sign up now!
7. Coming this week:
Friday — Eurozone unemployment data released for July