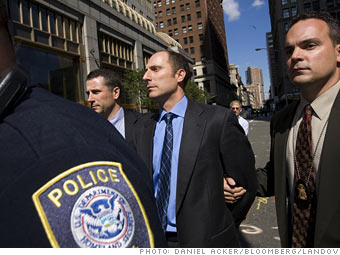 Matthew Tannin is escorted to a waiting vehicle on June 19, the day he was arrested by the FBI.
"If we believe the [Bear Stearns internal report is] ANYWHERE CLOSE to accurate, I think we should close the funds now.... If [the report] is correct, then the entire subprime market is toast." --
Tannin in internal e-mail to Cioffi on April 22, 2007
"So from a structural point of view, from an asset point of view, from a surveillance point of view, we're very comfortable with exactly where we are." --
Tannin to investors on April 25, 2007
Time to Armageddon: Two months
After two funds collapsed, portfolio managers Ralph Cioffi and Matt Tannin were charged by Brooklyn federal prosecutors with securities fraud. They have pleaded not guilty.
NEXT: Bear Stearns parent
Last updated January 06 2009: 12:16 PM ET
Email
|
Print
|

Digg this story
|
RSS