Amid the Great Recession, these companies are growing fast by offering services buyers can't go without -- like life-saving medical breakthroughs.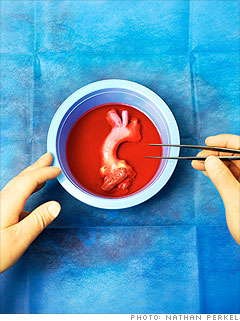 Every week 100 human hearts are flown into Atlanta's Hartsfield-Jackson International Airport and delivered on a bed of ice to the Kennesaw, Ga., facility of CryoLife (
FSB 100 #23
).
There the organs, which less than 24 hours earlier had beaten in the chests of their donors, are carefully dissected. Aortic valves, pulmonary arteries and other essential parts are removed, treated and kept in a liquid nitrogen deep freeze of -400°F until they are whisked away to hospitals around the country for implantation in patients.
Cryopreserving human tissue is a profitable business for CryoLife, but it's also a challenging one. Started in the early 1980s as a six-person operation run from a small laboratory near Atlanta's airport, CryoLife is now a public company with 435 employees and 2008 revenues of $105 million. But before returning to profitability in 2007, CryoLife struggled through a dark period marked by a patient death, numerous lawsuits and a product recall that threatened to kill the company.
"It was remarkable that the company was able to recover at all," says Raymond Myers, an analyst with Emerging Growth Equities, an equity research firm in King of Prussia, Pa.
Read about how CryoLife restarted its flatlining business.

NEXT: Profiting from toxic waste