We check back in with several of last year's FSB 100 companies to find out if their torrid growth has continued.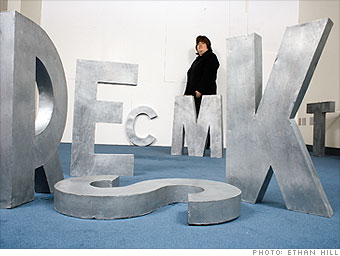 CEO Anna Chagnon and her Web fonts.
Since
Fortune Small Business
last checked in with Bitstream, the Cambridge, Mass.-based software developer has released a brand-new product, the mobile Web browser Bolt. "We beat the market and developed the products. It's time to grow aggressively," CEO Anna Chagnon
told us last year
.
Bitstream is stepping up its marketing efforts. Chagnon hired a PR firm to promote the December launch of Bolt, which is being offered as a free download, a first for Bitstream. (Chagnon hopes to build a user base and receive as much feedback as possible before offering the software to resellers.) The marketing campaign employed social media -- key bloggers were given codes to try out the software in advance -- and a public beta test.
The charm offensive paid off: "We expected 2,000 users," says Chagnon, "but we have over 300,000."
The news is not all cheery. Bitstream's revenues were down 10% in fourth quarter 2008 compared with the same period in 2007. In response Chagnon plans to throttle back on hiring. "When funding is scarce, every company has to focus on financial stability," she says. "We want to grow, but we can't control how much we sell."
On the bright side, Chagnon says Bitstream (No. 39 on this year's FSB 100, and No. 25 last year) is completely cash-funded, with no debt.
NEXT: Hefty sales