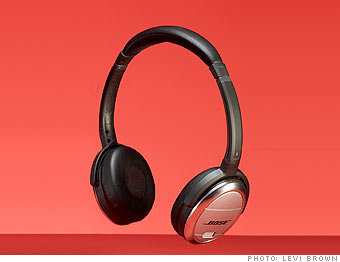 Bose's QuietComfort 3
($349) lies flush against your ears, which I preferred over the ear cups in the other large headsets. My only complaint with the Bose, aside from its price, is the rechargeable lithium ion battery. It may be greener than the AAA batteries used in the other devices, but I already have to worry about charging my iPhone, backup iPod, digital SLR and laptop batteries. I really don't feel like adding headphones to that list.
As for the sound quality, it was difficult to tell the Bose apart from the Sennheiser or the Aurvana.
The Bottom Line: I liked the JVC's comfort, discreet form and low price. If you value audio fidelity and don't care about bulk, go with the Bose. My audiophile co-workers insist that the Sennheiser offers superior sound quality, but my ears aren't sensitive enough to notice a difference when I'm trying to drown them out.

More galleries