In a time when business is rebuilding, Fortune set out to spot those who will lead their industries in the years ahead. We polled writers, editors and sources to come up with the inaugural list. Here are 8 leaders who see far beyond the borders of their jobs or organizations.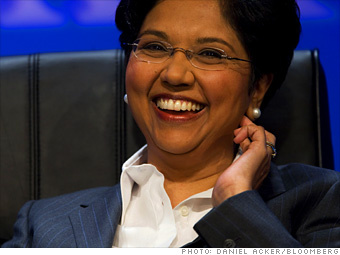 Industry: Consumer products
Title: CEO
Organization: PepsiCo
As CEO of the largest food and beverage company in North America, Nooyi has a profound effect on the rest of the industry. Her mantra is "Performance with Purpose," or making PepsiCo's overall food and drink portfolio healthy.
Currently PepsiCo (
PEP
) books $10 billion in revenues from self-described "good-for-you" products like Quaker Oats and Tropicana. The goal? Up that figure to $30 billion by 2020. Part of that plan involves cutting back on sodium in its snacks by 25% by 2015, as well as trimming saturated fat by 15% and added sugar in beverages by 25% by 2020.
"I think we're going to see a lot more convergence of categories, a lot more food and beverage that start getting into lifestyle management," predicts Nooyi, referring to foods designed to be healthy. The Indian-born Nooyi also thinks it's time for globalization to hit the food aisles: "You'll see a lot more traditions around the world being transferred around the world."
NEXT: Jim Rogers