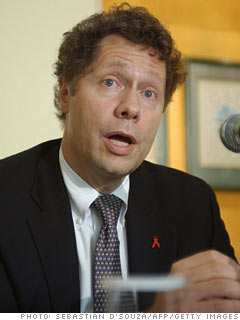 Industry: Science
Title: Epidemiologist
Organization: International Aids Vaccine Initiative
While working for the Centers for Disease Control in Uganda during the mid-1990s, Seth Berkley experienced the ravaging effects of HIV/AIDS on Kampala, the Capital City, where 18.6% of residents were infected.
"Living there, I began to see colleagues and friends die," he recalls. "I thought to myself: my god, this is our black plague." So in 1996, he shifted gears and established the International AIDS Initiative (IAVI) with the purpose of funding and sponsoring HIV vaccine efforts.
Fifteen years later, IAVI has made significant headway, even if the end goal remains somewhat elusive. IAVI has raised more than $850 million, and last fall, the organization, in conjunction with Scripps Institute, announced that researchers had found two new antibodies that could lead to a vaccine. IAVI is also currently sponsoring four clinical trials of HIV vaccine candidates in humans, as well as 8 preparatory studies for HIV vaccines in the U.S., Europe, India and Africa.
Says Berkley: "What we're offering ultimately is a vision of a world without AIDS, of creating the tools necessary to get there, of using science and technology to save hundreds of millions of lives."
NEXT: Muhammad Yunus
Last updated June 17 2010: 5:11 PM ET