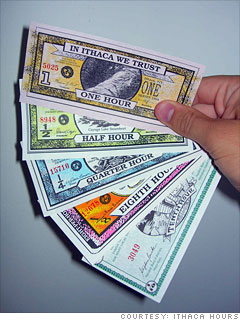 Instead of "In God We Trust," Ithaca Hours puts its faith in the tiny Central New York town known for being home to Cornell University. The currency, which carries the logo "In Ithaca We Trust," was created during the 1991 recession and used among a vast network of approximately 50 locally-owned businesses that have chosen to accept Hours as payment for goods or services.
Ithaca Hours isn't intended to replace the U.S. dollar, supporters say. It works similar to other local currencies that have developed in areas such as Ojai, Calif. and Greensboro, N.C. The idea is to give local businesses that extra edge to compete with big-box retailers, which Ithaca had for years resisted. What puts Ithaca Hours apart from others is that it also aims to encourage local employment by matching job seekers with employers within a network of about 500 members.
Here's how it works: $10 will buy one Ithaca Hour, $20 will buy two hours, and so on. Members can then list a specific service they'd like to advertise to a network of about 500 members. So a member in search of a dog walker can hire someone from the network and pay that person in Ithaca Hours. There's isn't necessarily a need to buy more Hours. Those who pay for services can also offer their own services to members and earn more Ithaca Hours.
To date, there is $130,000 worth of this currency in circulation, says Stephen Burke, one of four members of the board of directors of Ithaca Hours. He added that usage of the currency has grown amid the weak job market.
"We're trying to create employment for people," he says.
More galleries
Last updated July 21 2010: 1:00 PM ET