The wrong fix for small business lending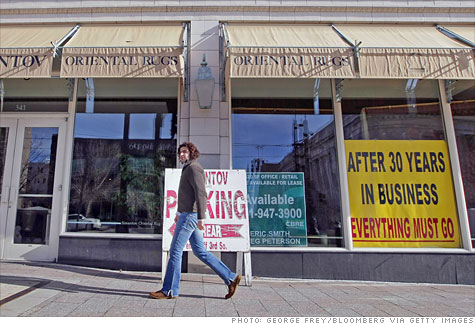 FORTUNE -- In a speech last week, Federal Reserve chairman Ben Bernanke said banks across the country are systematically denying loan requests from financially credible small businesses. Bernanke implored community banks to lend more to small businesses, saying they are "crucial to America's recovery."
Reading the speech, Dr. William Dunkelberg, the chief economist at the Independent Federation of Small Business, was wary. "What does that mean?
Bankers and borrowers alike echoed his puzzlement. Banks earn profit from issuing loans to small businesses, and they want to make more of them, according to community bankers in different corners of the country. Most of them have the cash on hand to make this happen.
"If there were people to lend to, we would do it. We want to help our own economy," says Jim Klussman, chief credit officer of Sunrise Bank in Arizona. "But there aren't viable borrowers, and then we're criticized by the federal government for not lending enough."
Loan officers say that many applications usually fall into one of two categories: helping a business stay afloat and business expansion. Too many still fall in the former group. According to a study by the National Federation of Independent Business, average employment rates at small businesses in May and June posted average declines of 0.48 and 0.28 workers per firm. Employment growth has been negative for 10 of the 12 quarters since April 2007.
What's worse, since real estate prices have fallen, many small businesses -- including those with viable business plans -- lack the necessary collateral to back up their loans. But banks, also squeezed by the credit crunch, can't afford to take on that risk. As of May, the FDIC's "problem list" included 775 banks, one-tenth of all banks, up from 252 in late 2008. Since Lehman went under, 244 banks have failed.
Small business, big risk
Many portfolios are still riddled with bad mortgage debt, particularly in the states of California, Florida, Nevada, and Arizona. Plus, once a risky loan is logged into the bank's system, regulators, who have ramped up their scrutiny, are likely to find it and downgrade it, forcing the bank to post more cash against the loan, according to Gary Klein from Bank of San Francisco.
Regulators, tasked with the unholy job of providing solutions, have been working around the clock since the crisis began to figure out how to strengthen the economy. But what seems to be missing in many discussions about small business lending is what's best for the economy itself.
Why would the average small business owner want to borrow money right now? Many businesses are still trying to reduce their debt levels. Less than half of the consumers polled in a July 16 Thomson Reuters/University of Michigan survey think they'll earn more money next year than this year. Markets continue to remain volatile yet elusive, and overall consumer confidence is at an 11-month low, according to the same study. Businesses are still discounting many of their products.
Further, the regulatory frenzy in Washington right now has everyone spooked. No one knows exactly how the new reform laws will play out in practice. The health-care legislation considers businesses with fewer than 50 people to be small businesses, and those that are available for a tax credit are those that provide health insurance and pay average annual wages of less than $50,000. Good intentions but stringent parameters.
A lot of businesses that don't fit into this mold are worried. Taxes are just as scary to small business owners. Although President Obama announced in his State of the Union that small businesses will get a tax cut, many people are anticipating that other tax rates will rise next year, so it's difficult to assess whether a business's overall tax burden will be higher or lower. With so much looming uncertainty, many small businesses can't fathom taking out new loans to expand their business.
Don't blame the banks
And yet, as signaled by Bernanke's speech, the government keeps pushing for new lending. Washington has ramped up pressure not just on community lenders but also on large commercial banks like Bank of America (BAC, Fortune 500) and Wells Fargo (WFC, Fortune 500) to set up small-loan funds. JP Morgan Chase (JPM, Fortune 500) hired hundreds of new employees to work with its $4 billion fund for small businesses. Regulators are now attempting to grease the wheels with a program that some in Washington have nicknamed "TARP Jr.": a $30 billion small-business lending fund for community banks meant loosen credit.
Yet if most banks are claiming that the main struggle is in finding viable borrowers, this is a curious solution. The banks that will sign up, predicts Dunkelberg, are those "desperate for capital and not heavy lenders."
Healthier banks, says Daniel Doyle, CEO of Central Valley Community Bank in California and former chair of the California Bankers Association, "don't trust the government, because with TARP, all the rules changed." Although many people think the bill will pass before Congress's August recess, it stalled in the Senate last week.
Still, something must be done to get small businesses up and running again. Small businesses employ roughly half of Americans and account for 60% of new jobs, according to Bernanke. But it's unclear whether foisting loans on them will solve the problem.
Jack Satagaj, the president of the Small Business Legislative Council, says taking out a loan to invest in inventory in this climate requires a leap of faith. With consumer spending down and overall economic sentiment shaken, entrepreneurs don't seem to be particularly confident that this investment in the U.S. economy will pay off -- and fear that they will simply wind up saddled with more debt.