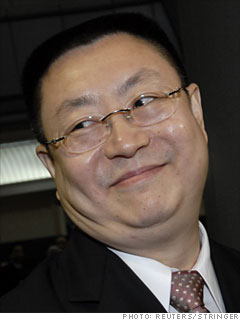 Chairman, Shenzhen Hepalink Pharmaceutical
Li and his wife became the richest couple in China after taking their drug company public in May. Underwriter Goldman Sachs also did well: The bank's initial $5 million investment was worth more than $1 billion after the offering. The stock has eased back since then -- down 17% from its high in May -- but the company remains a strong player in heparin sodium products, which are used primarily to treat cardiovascular disease and cerebral vein maladies.
--P.N.
More galleries
Last updated November 19 2010: 10:47 AM ET
How we crunch the numbers: In compiling our list, Fortune weighed a number of factors. Financial results, including year-over-year growth in profits and revenues, figured prominently into our analyses. So did stock performance: year-to-date, as well as gains made during the executive's tenure. We also considered off-the-book metrics, such as market share and influence, customer base, strategic initiatives and alliances, and sheer muscle. That's how comparatively smaller outfits like Reed Hastings' Netflix and Angela Ahrendts's Burberry landed at or near the top of the list, and why Robin Li's Baidu, which controls 73% of the Chinese search business, secured the sixth spot. It's also how private companies like Facebook and Twitter made their way onto the list, despite not having publicly available financial information.