Michael Dell was a mere 21 years old when he first appeared in Fortune's pages. Bill Gates made the cover when he was 30. Here's a look back at some of the biggest business leaders of the day when they were climbing the first rungs of the corporate ladder.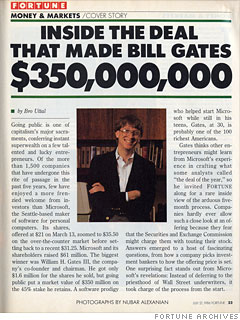 Gates was a spritely 30 years old when he graced the cover of Fortune's July 21, 1986 issue. Microsoft had just gone public, and he made $350 million in the deal. "Gates, at 30, is probably one of the 100 richest Americans," we wrote, unaware that he would become, in short order, one of the richest people in the world.

It's equally charming to see how Microsoft was described back then, as a "maker of software for personal computers." Today, the tech giant makes video game consoles, mobile software, operating systems, hardware for some cars, and it offers IT consulting services.

Gates, who remains chairman of Microsoft, spends most of his time these days giving away his great wealth. This year, Gates and his wife Melinda joined Warren Buffett in announcing The Giving Pledge, a philanthropic movement that encourages billionaires to donate half their wealth to charity.
NEXT: Howard Schultz, Starbucks
Last updated December 01 2010: 6:26 PM ET