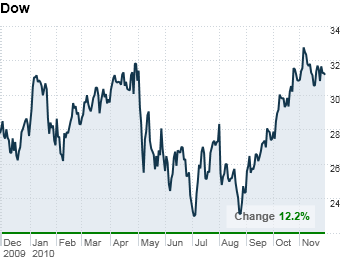 Market cap: $36.1 billion
2009 Revenue: $45 billion
P/E ratio: 12.8
Dividend yield: 1.9%
Cheap natural-gas prices are also a boon for Dow Chemical, which uses a key gas byproduct to make ethylene, a building block for the chemicals used to make plastic, rubber, paint, pharmaceuticals, detergents, and countless other products. "They've gone from being in the 80th percentile in terms of cost of production to the 20th percentile," says fund manager Tom Marsico, who counts Dow as a top 10 holding in his Marsico Focus and Marsico Growth funds.
Dow's business mix is improving too. In 2009, Dow acquired Rohm & Haas, a maker of specialty chemicals used heavily by the tech industry. The deal, which was announced just before the financial crisis began to unfold, got off to a rough start: Kuwait pulled out of a joint venture that was supposed to provide part of the financing. Forced to finance the $19 billion purchase on its own, Dow's stock took a beating from which it still hasn't fully recovered.
Nevertheless, by helping Dow broaden its portfolio -- which now includes chemicals used to make LED lighting, semiconductors, solar panels, and screens for TVs and smartphones -- Rohm & Haas has not only boosted Dow's earnings but also helped make them less cyclical. (As a bonus, Marsico thinks Dow may be on the verge of collecting a billion-dollar settlement from Kuwait, ending a dispute over the Rohm & Haas financing.)
Dow is also making hay in its agrosciences division; boosted by new Smartstax hybrid corn seeds that Dow co-developed with Monsanto, the division's operating profits are on pace to rise 14% in 2010 and another 16% next year, according to Credit Suisse analyst John McNulty.
Companywide, Dow's gross margins have improved from 13% to 19% over the past two years. Long-term debt has been pared by $4 billion. And analysts expect 2011 earnings to be up 32% -- on the heels of a 212% earnings improvement this year. (Granted, 2009 was a disaster.) Best of all, Dow's stock isn't priced to reflect the growth company it has become. The share's forward P/E is just 12.8. Says Marsico: "This is now a stock with a real long-term tailwind."
NEXT: Transocean
Last updated December 20 2010: 2:27 PM ET
All stock prices as of Nov. 30; price/earnings ratios based on estimated 2011 earnings.