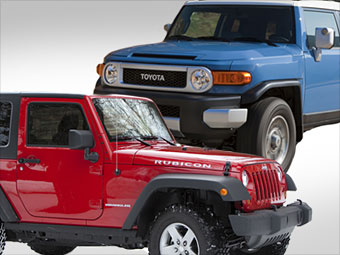 Cars that can plow through mud bogs or traverse mountain passes blocked with boulders mainly attract younger buyers who typically dream of trying such stunts. That's why Chrysler's Jeep Wrangler remains a favorite with this demographic, and it's a much more popular choice than Toyota's idiosyncratic FJ Cruiser.
The Wrangler's base model costs about $22,000 at retail, around $4,000 less than the FJ. True, Wrangler has a smaller engine. It also features removable doors, great clearance for driving over those big, humongous boulders and a washable interior to clean up after heaven-knows-what activities.
Wrangler has another advantage, the name Jeep, which is one of the world's most recognizable brands. Toyota has some work to do before anyone mentions "FJ" in the same breath as "mudbogging."
NEXT: Chevrolet Equinox vs. Honda CR-V
Last updated February 24 2011: 12:00 PM ET