General Motors and BMW rev up venture capital arms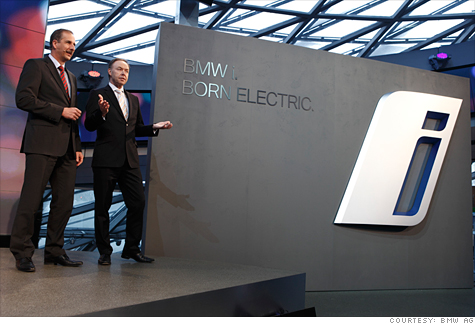 FORTUNE -- Lost in the excitement over the news this week that BMW is starting a new sub-brand for electric cars was the disclosure that it is getting into the venture capital business at the same time. The BMW Group has launched a $100 million fund, BMW i Ventures, based in New York City. Its mission: to expand BMW's range of sustainable and mobile technologies by making selective investments in young companies.
With that announcement came word of BMW's first investment, in a company called My City Way, also based in New York City. My City Way provides a mobile urban reference app focused on public transportation, parking and local entertainment. It's designed to help users navigate the world's cities by locating everything from the best wine bar to the nearest public rest room. As cars increasingly become platforms for information technology, it could be the next big thing.
Venture capital, because of its risky nature, has long been the province of private partnerships that can afford to take losses while they wait for another Apple. Now, auto companies, long accused of being slow adaptors, are giving it a try. They aren't looking to make a score like private VCs; what they want is a window into future technology, visibility on opportunities for future growth, and the chance to get a jump on the competition.
Besides BMW, General Motors is also following the classic example of setting up a separate venture operation to vet startup companies and their products. Toyota (TM) and Daimler used a different approach when they each put $50 million into a more established company, electric car builder Tesla. Meanwhile, the Swedish government has even gotten into the game as part of an effort to save what is left of its auto industry.
Corporate venture investments are made with several purposes. Many times, a big company will identify a smaller one that has some type of patent or another competitive advantage that can be used in the marketplace. Buying a chunk of that company allows them to watch it develop and perhaps adopt it. Other times, an investment allows the larger company to explore markets that it does not necessarily want to enter itself.
A year ago, GM (GM) established General Motors Ventures, LLC and assigned a fast-rising executive, Jon Lauckner, to run it. Lauckner, who had been vice president of global product planning and was overseeing the Chevrolet Volt, reports to vice chairman Steve Girsky. His mission is to nurture innovative technologies to help bring them to market, and to ensure that GM customers have access to the best new ideas available. Just to keep the game interesting, Lauckner has also been directed to make a profit on his investments to keep the fund in business.
GM Ventures' stakes aren't big; they range between $3 million and $20 million per deal. Electricity is a common theme. Its latest investment is in a Detroit-area startup called Powermat that makes wireless battery charging stations for electric cars like the Volt. Along with its $5 million dollar investment, GM got exclusive rights to the device for a year. Lauckner said wireless charging would be available in 18 months, starting on high-end models.
Lauckner has also put $5 million of GM's money into Indiana-based Bright Automotive, which is developing a purpose-built, plug-in hybrid delivery van, and $3.2 million toward battery developer Sakti3 of Ann Arbor, Mich.
Over at Ford (F, Fortune 500), the spotlight has been stolen by executive chairman Bill Ford's private venture efforts. Ford and two friends formed Fortinalis Partners, which aims to invest in technology companies that fight traffic congestion.
Last year Fortinalis (Latin for brook trout; Ford is an avid fly fisherman) invested in Parkmobile, one of the largest providers of mobile parking payment systems. Parkmobile's cashless parking allows motorists to pay through an application on their mobile phone or by making a short call, eliminating the need to carry change, predict the length of stay, and continually feed the meter.
Fortinalis also put some money into Everyday Solutions Inc., which makes GPS systems for school bus management companies. With GPS, the companies can optimize their routes to reduce fuel consumption while knowing where buses are at all times, improving safety and security.
The notion of venture capital as a business stimulant has been adopted by the Swedish government, which is funding startups to revitalize the country's shrinking auto industry.
Its venture operation received $419 million last year and funneled a little more than half to four private companies and one publicly-traded manufacturer of tool and die products. More than 50 companies have come looking for money, and the government plans to look actively for targets.
It isn't clear how much Volvo, Saab, and Sweden's parts suppliers will benefit from the effort, but the opportunities for all of these newly-minted venture capitalists in electrification, infotainment, smart materials, and autonomous controls are enormous.
The challenge for these newly-minted venture capitalists, as it is for their more experienced peers, is to sort out the Apples from the Osbornes, Sinclairs, and Kaypros. Or to put it in automotive terms, the Chevrolets from the Tuckers, Hupmobiles, and Stanley Steamers.