Gas prices are creeping up to the $4 per gallon range, but hybrid vehicles remain beyond many drivers' budgets. These new cars, which tread lightly at both the gas pump and the financing counter, are anything but econoboxes.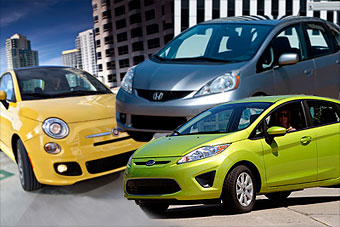 As gasoline prices creep toward $4 a gallon, motorists are fretting about the impact on their budgets, as well as their driving habits.
Rational consumers at some point may decide to car pool, take the bus or -- if they happen to be in the market for a new vehicle -- choose a model that costs less to operate.
One new entry, the Chevrolet Volt gas-electric hybrid, will appeal to some though its $40,000 pricetag will deter many who want to start saving immediately. After all, with regular unleaded up about $1 per gallon in the past year, the average motorist might be facing $600 or $700 in additional annual fuel cost -- a difficulty that isn't solved if the new fuel-efficient vehicle costs twice what the old one did.
With the number of big sport-utility vehicles and pickups on the road, many will be looking to switch to smaller models with conventional engines. Smaller has always equated to less money, in terms of purchase price and fuel economy.
For the first time, however, smaller doesn't necessarily equate to less comfortable. Today's compact and subcompact cars increasingly come equipped with amenities that weren't available just four or five years ago. Here are a few worth checking out:
NEXT: 2011 Chevrolet Cruze Eco
Last updated April 20 2011: 4:01 PM ET