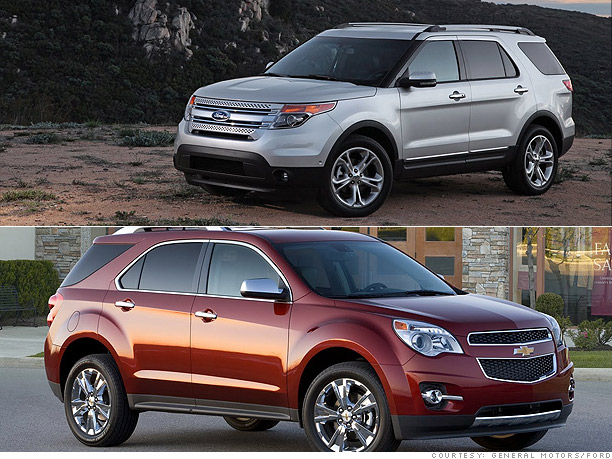 SUVs were a major cause of Detroit's headaches during the last gas crisis, but they're riding to the rescue this time. That's because SUVs have changed a lot over the last few years while America's desire for them has remained relatively strong.
This time around, if you see a new SUV on the road it will probably be a car-based crossover like the new Ford Explorer or the Chevrolet Equinox. These two don't really compete directly, though.
The Explorer (17 City / 25 Hwy) is a three-row crossover with a truck-like feel, some off-road capability and more hauling capacity. The Equinox (22 City / 32 Hwy) is a small, two-row that's pleasantly car-like to drive. You probably wouldn't want to venture far beyond the asphalt, but it's among the cheapest non-hybrid SUVs to fuel.
GM sold 53% more Equinoxes last month than the same month a year ago and Ford Explorer sales were up a massive 138%.