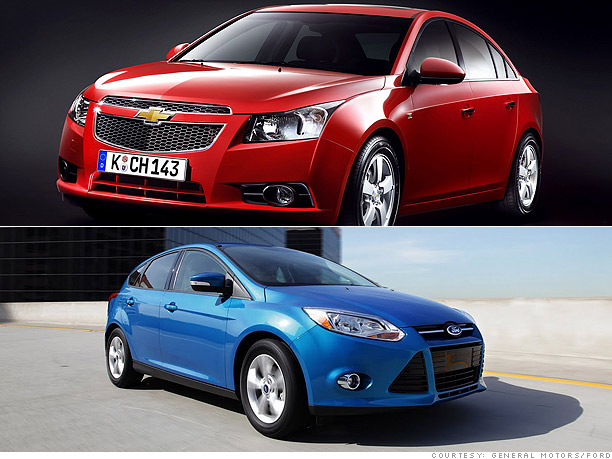 The last time there was a big run-up in gas prices it helped push U.S. automakers to the brink of ruin. This time, things are different.
Now, the U.S. auto industry is much more competitive than it has been in a long time, offering a lineup of fuel efficient cars that people actually want to buy.
Take the Chevrolet Cruze (26 City / 36 Hwy) and Ford Focus (26 City / 36 Hwy), for instance. (All fuel economy figures in this gallery are for base models. In many cases, higher mileage versions are available.) Both are vast improvements over their predecessors. They reflect very different personalities, though.
The Cruze is more sedate and feels more "grown up." It's a car for buyers who want a small car that feels like a big one. The new Focus, on the other hand, is edgy and taut. It's more fun to drive than the Cruze but might wear on those who prefer a smoother ride.
In March, sales for the Cruze were up a 180% compared to the Cobalt it replaced and Focus sales, with the new cars just entering showrooms, were up 22%.