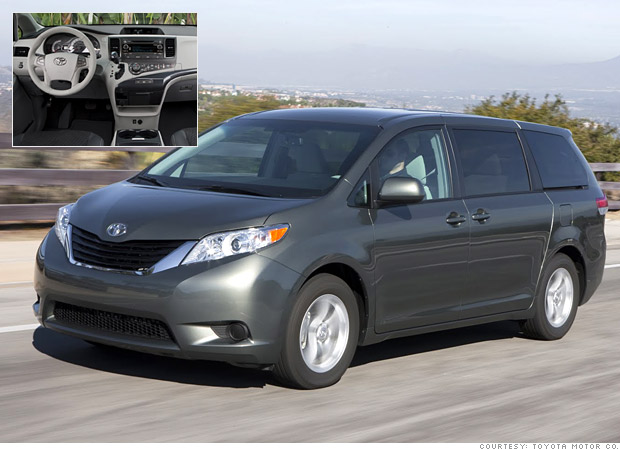 Base price: $25,060 - $40,570
Mileage: 19 City / 24 Hwy
Great if you want: A van that drives well and has tons of features
Weak spots: Interior materials are little... strange.
If you need a full-size minivan for practicality, but you like to drive, get the Toyota Sienna SE. It's the "performance-tuned" version of the Sienna and it's an almost-fun-to-drive full-sized minivan.
On the downside, the Sienna's dashboard is made from some unfortunate hard plastic that's imprinted with a very strange fake leather grain. (Really, it looks like leather from cows that smoked too much.) Otherwise, the Sienna remains a practical and comfortable choice. It's also loaded with available features
For those who occasionally need more seats but don't want to entirely give up the walk-through pathway, the Sienna offers a removable center seat that snaps in and out of the second row. Other available features include large dual sunroofs and an extra-wide back seat video monitor that can show two different things at once.