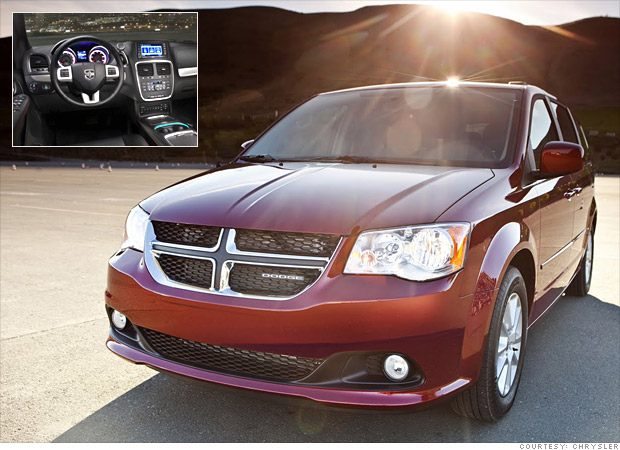 Base price: $21,800 - $30,695
Mileage: 17 City / 25 Hwy
Great if you want: A Dodge van that's better than last year's
Weak spots: Still a utilitarian machine
Since last year, Chrysler has thoroughly made over the Grand Caravan largely repairing its most glaring deficiencies-- an interior that looked looked like it was intended for a commercial delivery truck and a suspension set-up that felt just the same.
Now, compared to its competition, the Grand Caravan's interior is at least mid-pack. Likewise with the new suspension and steering. This van now feels like it'll go where you steer it. It's not something you'd want to drive for the sheer joy of it but, hey, you bought a minivan.
Fortunately, the Grand Caravan retains that famously long list of options including seats that dive down into the floor and cool disco-esque interior light pipes. New for this year, there's also the Grand Caravan R/T -- a.k.a. the "Man Van" -- that gets you "sport-tuned" suspension and a black interior with leather, but no additional power. Chrysler's vans have the most horsepower of any on the market, but it's not like raw power is a big selling point in this market. We haven't yet tested the "Man Van," so we'll get back to you on that one.