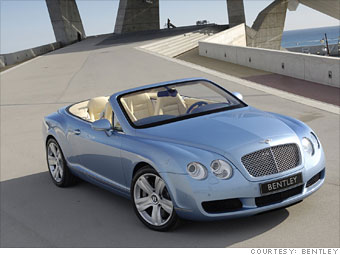 Base Price: $205,600
First shown to the world in September 2005, the GTC convertible is aging gracefully behind its signature upright mesh grille (made of plastic these days instead of brass for safety reasons).
You hardly need 12 cylinders any more, but it is nice to know they are available for this two-and-three-quarter ton mechanical marvel that is capable of reaching 62 miles per hour in 5.1 seconds and has a top speed of 195 miles per hour.
Substantial without being ostentatious, the Bentley fades into the background in Greenwich and Palm Beach and makes a quiet statement everywhere else.