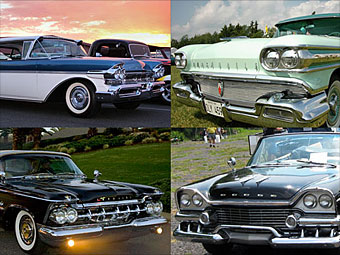 Remember 1958? Eisenhower was president, Pope John XXIII was crowned pontiff, 14-year-old Bobby Fischer won the U.S. chess championship, and Elvis Presley was inducted into the Army.
It was also the year American automakers produced the worst looking cars of the last 60 years: great tail-finned land barges draped in ornamentation and dripping in chrome. Designers had been trying to outdo themselves for so long, they'd lost touch with reality.
Chrysler Corp. got a jump on the competition in 1957 by tearing up its product plans and rushing out a line of cars with big tail fins and three-tone paint jobs. It was called the "Forward Look." General Motors, Ford, and American Motors hurried to compete. Excess was piled on excess. So many design changes had a predictable effect on quality, with Chrysler suffering the most of all.
Customers stayed away in droves. Tastes were changing as more restrained foreign cars made inroads and the paycheck-pinching Eisenhower recession took hold. By 1960 it was all over. Fins were all but gone, along with all the baroque frills that produced cars like rolling jukeboxes.
1958 should serve as a caution to today's automakers as they rush faddish styling ideas -- like four-door coupes, LED lights, or body side molding -- into production. Novelty quickly leads to the commonplace, and then to overuse -- with concomitant results for sales.
Herewith, ten egregious design examples from that forgotten year when designers ran wild, and American motoring taste hit a post-war low.