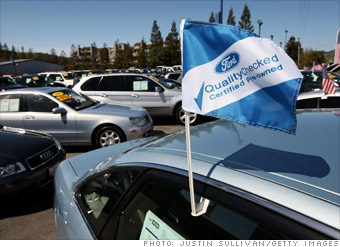 Buying a Certified Pre-Owned car costs a little more than just buying a regular used car but it`s worth it. Not only do CPO programs provide some additional protections, but sticking to CPO cars assures that you're not wasting time looking at lemons.
Some of that extra cost is because you're getting a better-quality car than you might otherwise, said Charlie Vogelheim, editor of the auto Web site Intellichoice.com. Certified or not, high-quality cars cost more.
Also, with most CPO programs, you're eligible for the same factory financing programs new car customers get.
Beyond that, the biggest benefit is the warranty. These warranties can be complicated and you should check them carefully.
With CPO cars, powertrain warranties are generally calculated from when the car was first sold as new. So-called bumper-to-bumper warranties, on the other hand, usually begin the day you buy it used, and get tacked on to any time that's left on the original warranty.
Some programs only offer only a powertrain warranty.
We hope the next few examples will help chose the CPO that's right for you.
But experts offer one other major word of warning: Not all so-called certified programs are the same. Your safest bet: Only trust manufacturer-backed certification programs. If a no-name used-car dealership says it has "certified" cars backed by an independent warranty company, that's not the same thing.
"What I'd be concerned about is, will that third-party company still be around somewhere down the road when I need that warranty?," said Kelley Blue Book editorial director Jack Nerad.