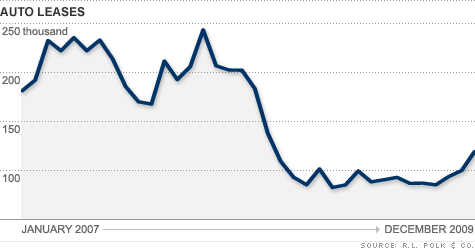 New vehicle leases fell off a cliff in the summer of 2008, and that is about to hit used car pricing.
NEW YORK (CNNMoney) -- Used car buyers are about to find that it's tougher to find the models they want. And they may have to pay more for older, higher mileage cars too.
Why? It's yet one more thing to blame on the crisis that hit the auto industry and overall economy in 2008.
A key supply of late model used cars -- vehicles coming off of three-year leases -- is about to be choked off due to the crisis in the financial markets and the auto industry that summer that cut deeply into new leases.
"Leasing fell off across the board in 2008, so there's just not going to be as many of those late model, good quality cars coming into the market," said Melinda Zabritski, director of automotive credit for auto research firm Experian.
Car leasing plunged in the summer of 2008, tumbling by 58% between June and November of that year, according to research firm R.L. Polk & Co.
Doubts about the future of several automakers dried up the supply of financing needed to write new leases, forcing General Motors (GM, Fortune 500) and Chrysler Group to essentially stop leasing. Ford Motor (F, Fortune 500) cut back on leases too, as doubts about the residual values of leased vehicles changed the economics of that business.
The price of used cars has already been climbing in recent years. The Manheim used car price index, a key industry measure, hit a record high in May that is 30% above the low it hit in December 2008. And many believe there will be more pressure on prices as the pipeline dries up later this year.
"This summer could really be a problem," said Charlie Vogelheim, executive editor at Intellichoice, the car buying Web site run by Motor Trend Auto Group. "The demand will be building as the supply will continue to dwindle. You'll be surprised how close the used cars are going to get to new car prices."
Other experts say that new car prices will present somewhat of a cap on used car prices, preventing prices from shooting up too high. But new car prices have also firmed, lifted by a combination of tight supply since the Japanese earthquake and higher raw material costs.
Experts say that the availability of some used car models will be particularly tough to find later this summer, no matter the price.
"Even with gas near $4 a gallon, you could have trouble finding the truck or SUV you want because of the lack of supply from three years ago," said Alec Gutierrez, manager of vehicle valuation for Kelly Blue Book. "You're going to be finding higher miles than you would have expected, and you're going to have to pay a little more for that."
It may not be until late 2012 or 2013 before supplies start to come back to normal levels.
But while this may be bad news for anyone looking to buy a use car, people who have leases that are about to end could benefit from the lack of supply.
Sergio Stiberman, CEO of LeaseTrader.com, said many dealers are offering deals to buy people out of leases early to try to replenish the supply of used vehicles.
Stiberman said many consumers with leases that are about to run out will be able to buy the vehicle at a price that was spelled out in their original contract, and then turn around and sell it or trade it in for more money.