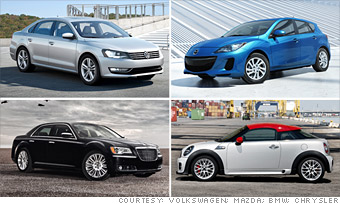 Is it too soon to start speculating about which brand and model will take home car of the year honors when the votes are counted early in 2012?
Heck no. After all, buzz about next year's Academy Award winners starts within microseconds after the ceremony for the current year concludes. Why should cars be any different?
Selecting the most important auto for a given calendar year no empty exercise. For the designers and engineers who worked on the car, it brings a resume-enhancing validation of their skills. For marketers, the award provides a high-value third-party endorsement that can be used effectively in advertising testimonials. And for the industry, it generates publicity and a potential sales lift in the late fall and early winter when showroom activity is slow.
The two most prominent awards are Motor Trend's, chosen by the magazine's editors, and North American Car of the Year (NACOTY), selected by a panel of 50 journalists (including me). Here are some of the top candidates and my guesses about their odds for winning the big prize.

By Alex Taylor III, senior-editor-at-large - Last updated September 15 2011: 2:47 PM ET