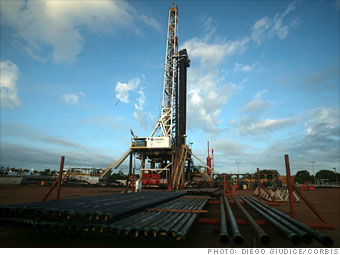 Rig in Venezuela's Orinoco Belt.
Area: Orinoco Belt
Estimated barrels of recoverable crude: 513 billion

Venezuela has a long history of oil production, but it has yet to fully exploit a huge chunk of reserves inland, in a stretch of about 20,000 square miles that follows the Orinoco River, called the Orinoco Basin.

The country estimates a substantial jump in production from the area, claiming that the Orinoco will add another 400,000 barrels per day to its production by 2016.

There's some debate over whether they'll make that goal -- and even over how much oil Venezuela currently produces. Venezuela claims that its national oil company Petróleos de Venezuela SA produces 2.96 million barrels per day. U.S. estimates are generally lower, around 2.09 million barrels per day.

U.S. relations with Venezuela have been tense. But production in Venezuela is scheduled to ramp up soon. The country has partnered with Italian company Eni and Chinese company Sinopec to develop Orinoco. Turkey is interested in two blocks as well, and multinational giant Chevron has a 34% stake in a block of Orinoco.

Even with all those big players in the pot, Orinoco still holds much more undeveloped opportunity.
NEXT: Brazil
Last updated January 26 2011: 12:08 PM ET