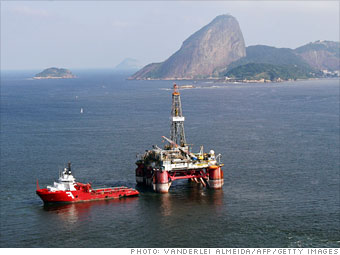 Oil drilling platform in Brazil's Guanabara Bay near Rio de Janeiro.
Area: Santos and Campos Basins
Estimated barrels of recoverable crude: up to 123 billion

Brazilian national oil companies have established themselves as global experts in offshore drilling, namely because the country has such a wealth of resources off of its own coast.

East of Rio de Janiero, Brazil's Santos and Campos Basins contain tremendous oil reserves in something called a pre-salt layer. The oil and other petrochemicals are trapped under about two miles of salt and rock layers, which starts about a mile deep in the Atlantic Ocean.

New studies have shown that there's probably more oil in these pre-salt plays than anyone guessed. The area could contain up to 123 billion barrels of oil, blowing away the earlier 50 billion barrel estimate from studies conducted by the Brazilian government.

Currently, Brazilian company Petrobras will legally operate all new exploration licenses in the pre-salt area, but the company plans to sell off rights to drill in portions of the region. There could be up to 60 new fields, averaging about 2.2 billion barrels each, studies estimate.


NEXT: Iraq
Last updated January 26 2011: 12:08 PM ET