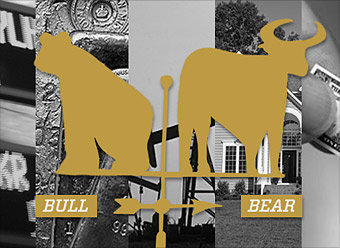 Around this time last year, investors and homeowners wondered what to expect in 2011. Many of us had hoped we wouldn't merely slog through another year -- that home prices would rebound (if only modestly); that gas prices wouldn't eat away at our paychecks; that uncertainties in the economy would spare our investments and retirement funds tied to the stock market.
Needless to say, 2011 ended with mixed results. Home prices didn't rebound, but sales showed signs of improvement and the rental market was strong. Europe's ongoing debt crisis rattled markets worldwide, leaving investors scurrying for for safer investments. So will 2012 be any different?
Should we be be bullish or bearish on housing, the stock market, gold and oil? Read on and decide for yourself.