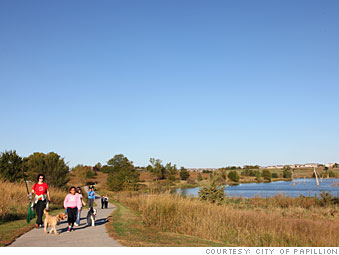 Median home price: $145,000
Median family income: $92,430


According to local lore, early fur traders stumbled across flocks of monarch butterflies and dubbed this area "Papillion" (the French word for butterfly) -- and the name stuck.
A perennial contender for Money's list, this suburb of Omaha offers a stable economy, first-class schools, and many large parks with plenty of family-friendly events.
In late August, for example, residents participate in the annual Midlands Pirate Festival. Even though these residents live hundreds of miles from the closest ocean and many of them rely heavily on farming, these folks prove they are no landlubbers.
Economically, the area is a small dynamo. Darren Carlson, the city's community relations director, said local agri-business is booming and so is military contracting, thanks to a major nearby facility, Offutt Air Force Base.
See complete data and interactive map for Papillion