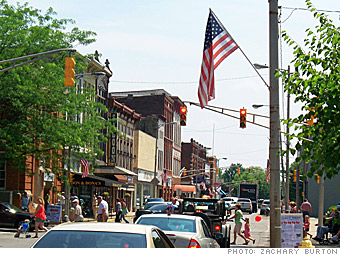 Median home price: $99,000
Median family income: $60,914


Franklin produces auto parts, packaging and great basketball players, like former Indiana University sharpshooter, Steve Alford.
The town's early claim to fame came nearly 70 years ago when a Life magazine crew came to shoot a photo essay, which portrayed Saturday night in an ideal American small town.
Since then, the city's population has almost quadrupled and many big companies -- Toyota and Mitsubishi among them -- have opened up shop, employing a fair percentage of locals. Other residents commute to Indianapolis, just 25 miles away.
Since the Life story, "we've become more of a suburb," said Mayor Fred Paris, "but one thing that hasn't changed much is the people. There's a strong strain of volunteerism here."
See complete data and interactive map for Franklin