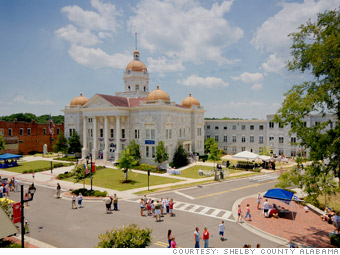 Towns include:
Alabaster
,
Pelham
Job growth (2000-2010):
32.6%
Alabama's fastest growing county is enjoying generous job growth as well. The area's headcount is expected to jump by 10,000 in the next five years, according to data tracker Woods & Poole Economics. Professional services are expected to gain most, with about 1,300 jobs that will pump more than $91 million into the local economy. Major employers include the local school system, Regions Bank and Wal-Mart.
With rapid growth, however, come growing pains. The county's infrastructure has had trouble handling its expanded population. A plan to upgrade the I-280 corridor with an elevated highway has received widespread support with a vocal minority voicing its opposition.