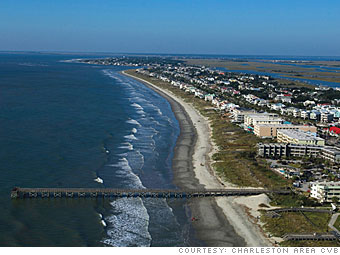 Towns include:
Charleston
Job growth (2000-2010):
30.5%
The Dreamliner has landed in Charleston County. Boeing will assemble its 787 passenger jet at a $750,000 million plant there. Although the ribbon cutting ceremony was only in June, the facility has already brought 1,000 jobs, with the promise of 2,800 more to come. Aerospace is one of the county's fastest-growing industries with more than a dozen companies in the area.
Meanwhile, the proximity of the Medical University of South Carolina and its research facilities is a major draw for Charleston County's biosciences sector. More than 30 companies have set up shop. Other target industries include tech, advanced security and auto parts makers and suppliers.
Business is also booming at one of the nation's busiest cargo ports. Container shipping at the ports of Charleston and Georgetown is up 10% in the current fiscal year, while non-container cargo has jumped 40%.