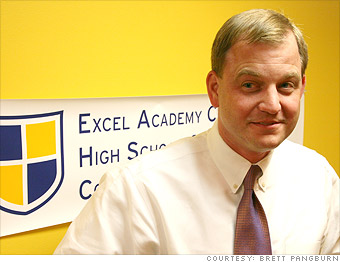 Hometown: Boston
Age: 39
Was: Lawyer
Why I did it:
Pangburn found his job as a lawyer rigorous, but volunteering as an after-school tutor for middle school students made him question how he was spending his days.
"It wasn't a lifestyle I wanted," he says. "And I didn't feel like what I was doing was always that meaningful."
How I did it:
In his 30s and single at the time, Pangburn figured it would only get harder to switch. "I got myself into a position financially to make it work."
To learn a new field, he says, "I approached it the same way I did when I was a lawyer: watch people who were good and ask questions."
Why I love it:
"I found I could really relate to the kids. I'm 100 percent into being with them and trying new things every day. At the end of the day, when I go to bed, I feel like I've done something."