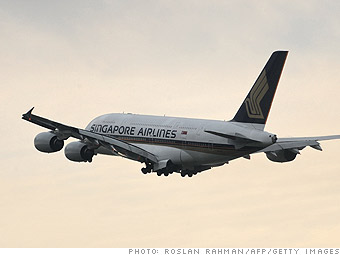 Singapore Airlines is all about creating mile-high luxury for passengers. It was the first company to start flying the 471-seat Airbus A380s in 2007, and it equips them with roomy, suite-style cabins for high-class fliers.
Recently ranked the most desired brand in Singapore in a survey by consulting firm Clear Ideas, Singapore Airlines' focus on luxury has also helped it weather the tough economy.
The company has had to increase fares, but its customers have been willing to pay more to travel in comfort. Its latest quarterly numbers show a 12% jump in revenues and $225 million in net profits.
Singapore Airlines is also learning how resilient a strong brand can be when it becomes tarnished. The carrier was one of more than a dozen global airlines charged last year with fixing prices of air cargo between 1999 and 2006 (along with Air France, No. 5 on this list). It faces antitrust fines from the U.S., the E.U., and South Korea. In January it said it has set aside $199 million to cover these costs. (Air France, meanwhile, settled with the U.S. last summer but is appealing in the E.U.)
NEXT: Southwest Airlines
Last updated March 30 2011: 1:06 PM ET