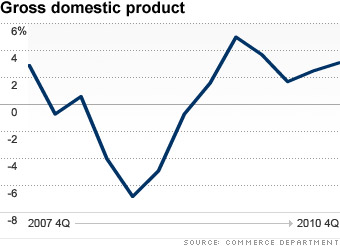 In January, the economy was looking up, and the Fed boosted its outlook for economic growth this year to a rate between 3.4% and 3.9%.
But a lot has changed since then.
Political uprisings in the Middle East and North Africa fueled a surge in oil and commodity prices, and the earthquake and nuclear crisis in Japan rattled the international supply chain.
Most economists have slashed predictions for growth in the first three months of this year, and many are waiting to see if the Fed will change its tune when it updates its yearly outlook on Wednesday. A day after the Fed's announcement, the Commerce Department will release its report on first quarter growth.