Could oil, housing, and spending cuts derail the economy?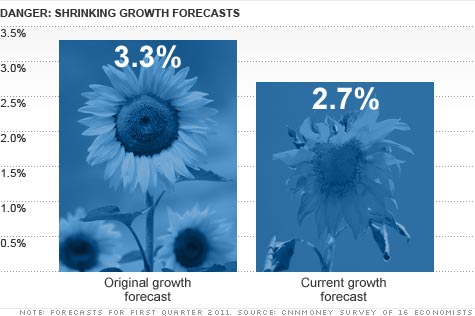 NEW YORK (CNNMoney) -- The recovery is slowing, and economists are slashing their forecasts for economic growth.
Of the 16 economists surveyed by CNNMoney, all but two have reduced their first quarter economic growth predictions within the last month. Eleven have cut their expectations for the entire year.
Back in March, economists were expecting the economy to have grown at a rate of 3.3% in the first three months of this year. But now, those predictions have dwindled down to an average of just 2.7%.
The reasons? Rising oil prices, a weak housing market and looming cuts in government spending.
"Our reduced forecast is based on higher oil prices and higher odds of premature fiscal tightening," said Bill Cheney, chief economist with Manulife Asset Management. "In the absence of those forces I would probably have raised the forecast."
One economist who has not cut his forecast admits that he might have to soon.
"We are worried that in light of recent weakness ... we are about one percentage point too high [on first quarter economic growth]," said Joseph LaVorgna, chief U.S. economist for Deutsche Bank. His first quarter forecast now stands at 3.8%.
The economic growth rate is adjusted for inflation, so higher prices for commodities such as oil can be a drag on the number.
But perhaps most importantly, the steady rise in gasoline prices in recent months has acted like a tax on consumers and businesses, cutting the amount of money they have to spend on other goods services.
Several economists spoke of weaker capital spending by businesses in the face of higher energy prices as a reason for their lowered expectations.
And oil prices aren't the only cause for concern.
While many economic readings, such as job growth and consumer spending, have improved in the last few months, continued weakness in the battered housing market has many economists worried too.
The debate going on in Washington is another major red flag. Several economists also said they lowered their 2011 growth forecasts because Congress appears ready to make more cuts than they originally expected.
"I have been steadily lowering the growth forecast since the beginning of the year as commodity prices have risen and the fiscal restraint has come into relief," said Mark Zandi, chief economist for Moody's Analytics.
Growth of 2.7% would be considered very weak for a recovery. From 1980 to 2007 the average growth rate during economic expansions was 3.6% a year.
"We are still stuck in a period of sub par economic growth and not likely to fundamentally break that trend any time soon," said Diane Swonk of Mesirow Financial.
Better times ahead?

For the full year, growth expectations have shrunk to 3.3%, down from the 3.5% growth previously forecast by the group.
But a few economists believe disappointing results in the first quarter could lead to stronger growth numbers the rest of the year as the economy bounces back.
"First quarter [spending] is coming in much lower than expected, but the economy is doing well, so I raised the forecast for the rest of the year," said Kurt Karl, chief U.S. economist at Swiss Re.
"The risks are up, but fundamentals such as jobs growth have improved."