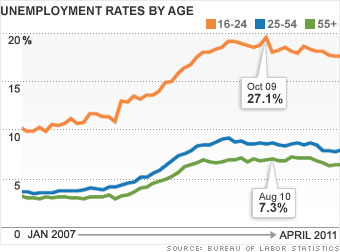 Summer is fast approaching, and America's youngest workers may be facing their toughest job market yet.
Roughly 3.7 million people between the ages of 16 and 24 want jobs, but can't find them. They make up about a quarter of the country's total unemployed.
For those workers, the unemployment rate stood at a staggering 17.6% in April. And the rate only counts those who are looking for jobs -- not young people who choose to focus on schoolwork or have given up looking.
America's oldest workers actually have the lowest unemployment rate among the age groups. Only 6.5% of workers ages 55 and older are unemployed, not including retirees.
Current unemployment rates:
Ages 16-24: 17.6%
Ages 25-54: 8.0%
Ages 55 and older: 6.5%