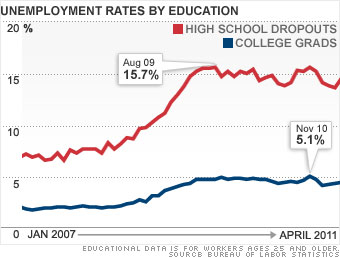 A college education has become more valuable than ever before.
Whereas 30 years ago, it wasn't difficult to get a decent paying job with only a high school diploma, those opportunities have diminished significantly, leaving high school dropouts and grads among the highest unemployed, and lowest paid on the job ladder.
For high school dropouts 25 years and older, the recession drove unemployment as high as 15.7% in August 2009. It has since trickled down, but remains high at 14.6%.
At its worst, unemployment for workers with bachelor's degrees only rose as high as 5.1%. Now it stands at 4.5%.
Meanwhile, high school dropouts have an unemployment rate of 14.6%.
Current unemployment rates:
Less than high school: 14.6%
High school grad: 9.7%
Some college or associate degree: 7.5%
Bachelor's degree or higher: 4.5%