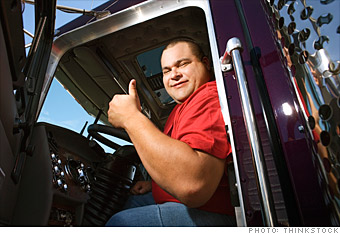 With just a Commercial Driver's License and a willingness to hit the road, you could be making a starting salary around $40,000 a year.
But the trucking industry is having a tough time finding drivers. Gary Salisbury, CEO of Fikes Truck Line and Chairman of the Truckload Carriers Association estimates there's currently a shortage of about 150,000 truck drivers in America, and he expects that to double next year.
"As an industry, we have many jobs available right now that we could immediately put to work," he said.
Part of the problem stems from the tough life of living on the road, which dissuades many candidates from applying. Drivers are often away from home for months at a time, work long hours alone and have to deal with traffic.
Salisbury also said he wishes there was less red tape to hiring veterans, who might be interested in the job.
"There are soldiers driving trucks in Afghanistan and Iraq right now, and even though they're licensed in the military, they still need a CDL before I can hire them," he said. "That seems counterproductive to me."
Apply to work at Fikes Truck Line
Explore other trucking jobs