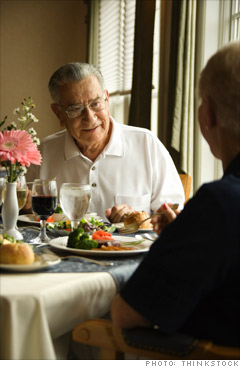 Name: Thomas Corban
Hometown: Albany, NY
When my wife and I take a vacation, we keep our eyes open for another car with folks who appear old enough to be retired to see where they turn for dinner. Usually seniors know of locally-owned places where the food is cheap, fun and wholesome.
We're just like explorers who follow elephants to water in a drought.
Of course, to follow a senior heading to dinner, you have to head out early. Many seniors need to finish dinner by 6 p.m. to give their systems time to digest before going to bed. So we start looking for them early on, to catch the good "early bird specials."
The meals on the senior menu are almost always under $10. And it's food that won't make you sick, because seniors eat there, and they've got delicate stomachs.
We started doing this in our 30s, when we were vacationing in Florida a lot. Now we're actually seniors ourselves, and we still like to do it -- especially when we visit new places and don't want to end up spending lots of money eating at the spots tourists go.