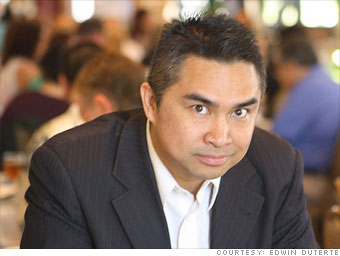 Name: Edwin Duterte
Debt: $522,000
Age: 41
Hometown: San Jose, Calif.
I was laid off in January of 2008 from my job as a commercial real estate construction lender, and I haven't had any income since.
I missed a couple payments on my storage unit, and they sold all my stuff. So everything I own stays in my car with me. I stay at my girlfriend's apartment for a couple weeks each month, and I try to dog-sit and cat-sit for my friends as much as possible so that I can stay at their apartments when they go on vacation.
When I got laid off, I decided to reinvent myself and went into social media. The housing market looked like it might start to get better, so I opened a small construction company for small businesses that relied on social media. But the economy didn't get better, and the companies couldn't pay me.
So I tried to go back to my first career path and have been applying to become a loan officer again. I have a wonderful resume and have been in the industry longer than the guy interviewing me a lot of the times, but because I'm unemployed they don't want to take me.
It's sad because I'm 41 years old -- I should be at the prime of my earning ability and it's just not that way.
Along with no income, I owe $12,000 in credit card debt and haven't made payments in two years. I own three real estate properties but had to ask my sister to take over the payments for now, so I owe her a lot of money, too.
Now, I'm restarting a movement I came up with called Pink Slip Mixers, where I introduce job seekers to employers at mixers. I'm going to invite companies I want to work for, and lead some panel discussions so that hopefully I can educate the audience, as well as highlight my own skills.