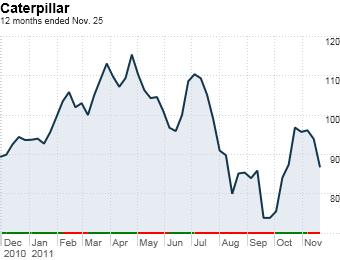 Market cap: $59.1 billion
2011 revenue: $58 billion
P/E ratio: 10.1
Dividend yield: 2%
The world's leading maker of construction vehicles and machinery, Caterpillar is probably more sensitive than Apple to further deterioration in the global economy. But much like Apple, Caterpillar seems grossly underappreciated by investors. CAT shares have lost 21% since July and now trade at 10 times forward earnings -- despite profits that are on pace to rise 64% in 2011 and another 33% in 2012.
Caterpillar CEO Douglas Oberhelman is not someone with a reputation for overpromising, and he's on record predicting 15% to 20% growth rates through 2015. Of course, making bold predictions is easier when you're sitting on a record $29 billion in back orders. "We believe the stronger volumes in the third quarter are likely to carry through to the fourth quarter [of] 2012 based on the sizable backlog increase," wrote Citigroup analyst Timothy Thein in a recent research note.
How exactly is Caterpillar managing to fight off economic headwinds? Timely acquisitions have helped. For example, the summer purchase of fast-growing Bucyrus, which makes giant shovels and equipment for mining coal, copper, iron ore, and other minerals, helped Caterpillar double third-quarter operating income from its mining-equipment division. Another key has been service. "Because preventing machine downtime is critical for Cat's customers, the company's wide dealer network creates a sizable competitive advantage," notes Morningstar analyst Adam Fleck. Caterpillar has also been successful at lowering costs through factory automation: The company's East Peoria, Ill., plant has increased output threefold while cutting its labor force by two-thirds, Turner says.
Caterpillar stock has a 2% dividend yield, but that's really just a side benefit. The company's five-year average P/E ratio is 16. Were it only to rise from its current 10.1 multiple to 13 (assuming it hits its projected 2012 earnings), that would mean $117 a share -- a 31% total return.