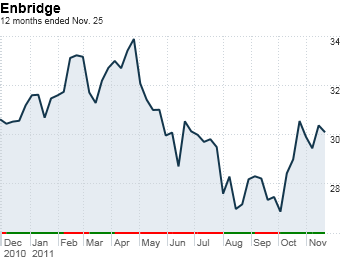 Market cap: $6.9 billion
2011 revenue: $9 billion
P/E ratio: 19.1
Dividend yield: 7%
Enbridge Energy Partners is the U.S. affiliate of the Canadian pipeline company Enbridge Inc. While we like the Canadian stock, which has a 2.7% dividend yield, we prefer Enbridge Energy. Its 7% yield is enticing, and its payouts to shareholders have been incredibly consistent: They've increased an average 5% a year since 1992, without a single reduction.
Technically, they aren't dividends but rather "distributions." Enbridge Energy is organized as a master limited partnership. MLPs are exempt from corporate income tax, which means that unlike dividends, distributions are not double-taxed. Also, investors' taxes on income from MLPs aren't based on the distributions they receive (which come from free cash flow), but rather on their proportional share of the MLP's net income, which is lower because it's reduced by depreciation, amortization, and other charges. For example, in 2010 the company took large deductions for cleaning up an oil spill. The end result: a $48 million loss for tax purposes, even though Enbridge Energy paid out $505 million in distributions.
The crude flowing through the company's pipelines comes from two of the world's fastest-growing oil patches -- Alberta's oil sands and North Dakota's Bakken Shale. Canadian oil sands production is expected to increase from 2 million barrels a day to 3 million by 2018, while Bakken production is projected to increase from 600,000 barrels to 1 million over a similar period.
Given that Enbridge Energy's pipelines transport 60% of Canadian oil sands and 45% of Bakken crude, the growth potential is "enormous," according to Morgan Keegan analyst John Edwards. The company is expanding its pipelines to meet the coming demand, and President Obama's call to delay a final decision on a rival pipeline -- TransCanada's Keystone XL -- gives Enbridge Energy a leg up. Edwards has a $36 price target for what's now a $30 stock. Throw in expected distribution growth, and that $36 target translates to a total return of 27%.